It's officially summer in North Lake Tahoe!
It's the summer we have all been dreaming of after a record breaking winter. Pack away those skis and boards for a few months and enjoy beach days, boating, hiking, biking, outdoor dining, summer cocktails, live music, & more! Read along for great activities, events, and local businesses to make unforgettable memories this summer and learn why so many Tahoe locals come for the winters, but stay for the summers. 
Enjoy the best beaches in North Lake Tahoe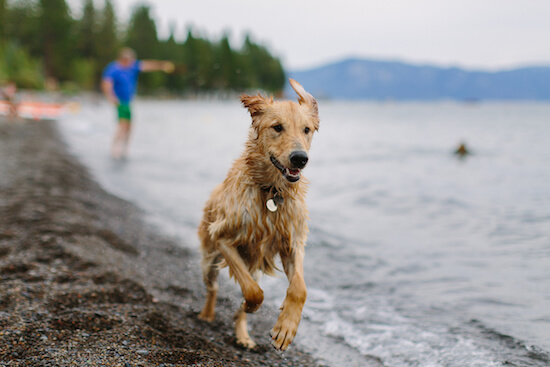 North Lake Tahoe is home to some of the most breathtaking beaches in Tahoe. We are lucky to have a diversity of options, all while having great access to dining and shopping after your long day in the sun. 
Kings Beach, located in the heart of beautiful North Lake Tahoe, is one of Lake Tahoe's best beaches because of its spacious sandy location, and south facing sun exposure so visitors can enjoy the long warm sunny days, capture the breathtaking views of Lake Tahoe and spectacular sunrises and sunsets. The sandy, shallow shore of Kings Beach creates the warmest water for swimming or wading, making it one of Tahoe's most family-friendly Lake Tahoe experiences. From the beach you can easily walk to the downtown core and enjoy dining and shopping after your beach day! 
Speedboat Beach is a local favorite and has recently upgraded facilities with bathrooms and an outdoor shower station. Parking is very limited and the beach will be small or close to non-existent this summer due to high water levels. It is still a great place to launch a kayak or paddle board and enjoy the amazing views from Crystal Bay. 
Moon Dune Beach is the finest white sand beach in Lake Tahoe. The water is shallow and warm and beach goers can be found wading or floating here for hours. Limited parking is available only along the highway. There are no developed facilities. Garbage services and portable restrooms are provided in the summer near the entrance.
Carnelian Bay
There are a couple beach options in Carnelian Bay on either side of Sierra Boat Company. 
This three-acre, pebbly beach is quickly becoming Lake Tahoe's stand up paddling headquarters. You can launch your kayak or paddleboard, or rent from Waterman's Landing. The site is also served by restrooms, a full service café, and the staff are experts in the local paddle community. Dogs are welcome at this beach! 
Located on the west side of the Sierra Boat Company in Carnelian Bay, Carnelian West offers 530 linear feet of public beach right next to Garwoods. Parking is available throughout the lot—there are no designated beach or restaurant spaces—or arrive by bike or bus. The site includes a lakefront promenade, benches, picnic tables, and restrooms. Dogs are welcome at this beach! 
Lake Tahoe has approximately 191 sq miles of surface water to explore! With many amazing coves and shore lines to see. Enjoy your time on the lake with motorboats or human powered vessels.
Check out some boat rental options in North Lake Tahoe!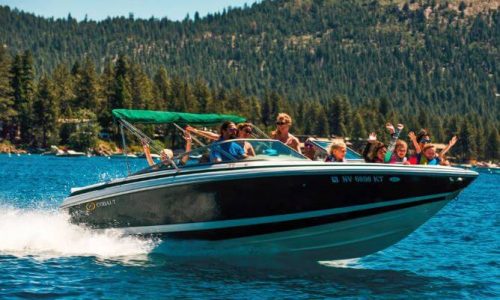 Check out some kayak and paddleboard rental options in North Lake Tahoe!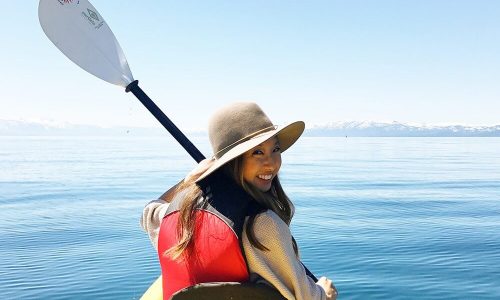 Tee Off in North Lake Tahoe

Old Brockway Golf Course is OPEN!

Old Brockway Golf Course is a nine-hole gem tucked into the forest, just a stone's throw from Lake Tahoe's shores in Kings Beach. Designed by John Duncan Dunn in the 1920s, it opened to the public in 1924. It is one of only a few century-old courses still in play in Tahoe.
Old Brockway was home of the 1st Bing Crosby Golf Tournament in 1934-35 and was the first 9-hole golf course in America to become an Audubon cooperative sanctuary.
The course still maintains its old-fashioned feel: narrow fairway corridors, small greens and wild times. Old Brockway is usually one of the first to open and among the last to close each year. 
Learn more about Golfing all around the Lake in Tahoe Weekly's Annual Golf Guide

Kings Beach Miniature Golf is OPEN!

Kings Beach Miniature Golf, a family-owned miniature golf course located in gorgeous downtown Kings Beach, California which opened up in 1957 by two merchant marine brothers who designed and built the two courses that are still in operation today. They first built the Mountain Course; a couple years later they built the Lake Course. The 38 holes were made using a combination of geometry, physics, and simple machines, and despite their relative simplicity (and obvious lack of new-age gadgetry), present a timeless challenge to golfers of all abilities. For the next several decades the brothers, with the help of their children and grandchildren, made annual trips up to Tahoe to open and run the miniature golf courses. Their tradition continued until 1998, when they sold the courses to some Tahoe locals, who along with their children, continue to operate them to this day. Putt'em straight today!

Disc Golf in North Tahoe Regional Park
Try your luck at the 18 hole course that meanders through the North Tahoe Regional Park. The course was designed to start at Tee #1 at the top of the hill, however many locals like to start play from Tee #10. All of the volunteers who built the course, as well as the North Tahoe Public Utility District hope you have a great round, and come back to visit us for many more.
Disc Golf Doubles Nights | Wednesdays @ 5pm from July 12 – August 16
Sign up HERE
Live Music - ALL SUMMER LONG!
Music on the Beach
Friday nights in Kings Beach
Start your 2023 summer weekends off right by listening and dancing to FREE live music performances featuring a variety of genres on the beautiful North Shore of Lake Tahoe. Concerts take place every Friday night at the Kings Beach State Recreation Area; music starts at 6:30pm.
Concerts at Commons Beach
Sunday evenings in Tahoe City
Local, regional and national performers will delight Tahoe City audiences every Sunday afternoon this summer. This FREE 12-week concert series begins June 18 through September 3. Music begins at 4pm and lasts until 7pm.
Sunday Sessions
Sunday afternoons at Alibi Ale Works in Incline Village
Come relax after your morning hike or paddle at Alibi Incline with great beer, excellent food, and good times. Every Sunday at 3pm this summer we've got a lineup of great musicians playing every afternoon in our beautiful outdoor biergarten.
Yoga at the Park
North Tahoe Regional Park Field #1
Thursday, June 22
Thursday, July 27
Thursday, August 24
Tahoe Flow Arts & Fitness present a FREE, all-levels vinyasa class that emphasizes feeling into your proper alignment and activation in yoga postures combined with a fluid flow. 
Pam Emmerich Memorial Trail Walk, Run, and Stroll
Friday, June 23 at 5pm
FREE and great for all levels! A great introduction to trail running. Bring the whole family out for a run, walk, or stroll along the Pam Emmerich Memorial Pinedrop Trail. Start on Field #3 at the North Tahoe Regional Park.
Sign up HERE
Community Garden Members Event- Bocce & Brunch
Saturday, June 24 @ 10am–12pm
Sign up to  be a member of the Community Garden in the North Tahoe Regional Park and join in on monthly membership events all summer long.
Sign up HERE