BRING ON SPRING, NORTH LAKE TAHOE!
NTBA is excited to welcome back the beautiful long, warm days that spring brings to North Lake Tahoe. There truly is no better time than now to explore the many fun adventures our region has to offer. This spring will be a unique one due to our record breaking snowfall this winter. Skiing and riding will continue to be fantastic well into late spring! …And as the snow melts, all of Tahoe's epic warm weather activities will begin to be accessible. 
Spring in Tahoe is famous for dual sports days; there are so many options while we are in limbo between winter and summer! You can do multiple activities in one day or a weekend! Start off by enjoying a glassy paddle on big blue, a relaxing afternoon on the sandy beach, or perhaps in a last chance for spring skiing and riding. While the spring adventures are endless, there are also heaps of amazing local small businesses we encourage you to show your love to and support including shops, restaurants, services and more!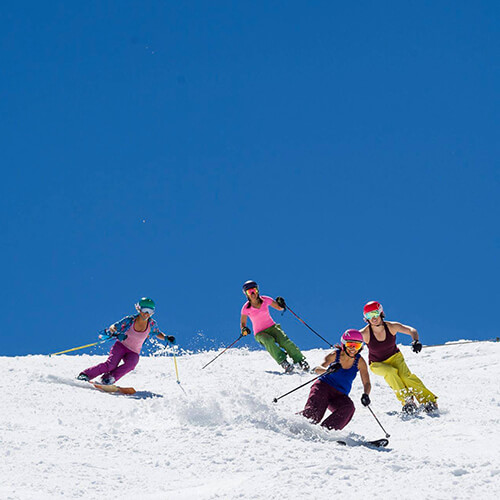 Photo: Mt. Rose Ski Tahoe
WITH OVER 700" OF SNOW THIS SEASON — SPRING SKIING HAS BEEN EXTENDED!
Many Tahoe regional ski resorts have announced plans to extend their ski season well into spring and even summer!
2023 Closing Dates:
Palisades Tahoe

Alpine — July 4th (yeah, you read that right!)
Palisades — May 29th 

NorthStar California  | 

April 30th 

Mt Rose  | 

April 30th 

Sugar Bowl  | 

April 23rd 

Tahoe Donner  | 

April 16th 

Homewood  | 

April 9th 

Diamond Peak  | 

May 1st

Boreal  | 

April 16th 
PLEASE NOTE: be sure to check resort websites as dates are subject to change!
GET YOUR TURNS IN WHILE YOU CAN!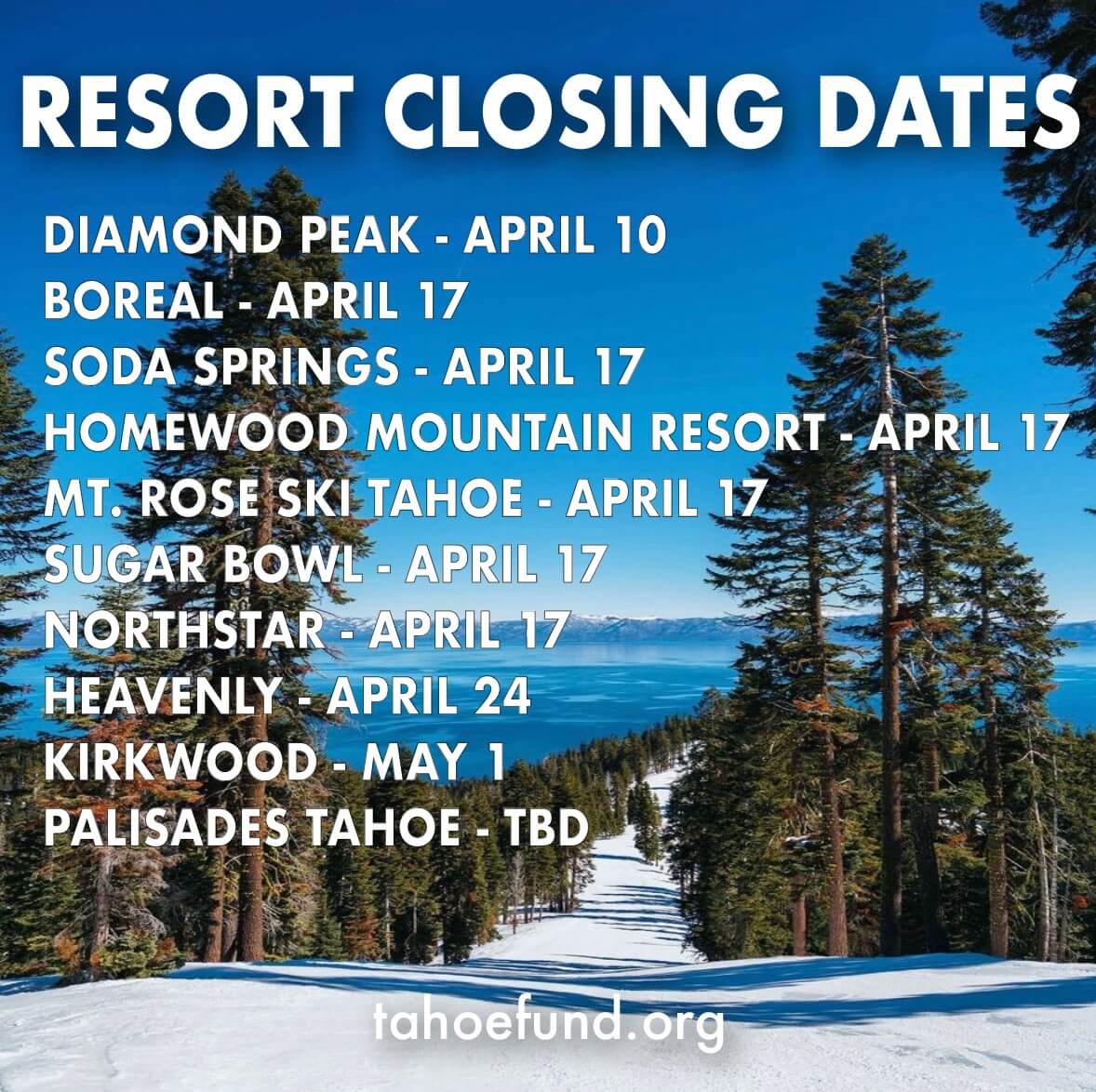 Looking for some INDOOR activities?
We've had our fair share of blizzardy, rainy, and windy days this season that keep us inside. Check out some fun offerings from the North Tahoe PUD Parks & Recreation next time you feel cabin fever coming on!
Toddler & Me Indoor Play | Golden Hour Tuesday Social (55+) Weekly on Tuesdays
Are you a parent or a caregiver of a young child, or a distinguished member of our community age 55+? The North Tahoe PUD Parks & Recreation department hosts a weekly event on Tuesdays at the North Tahoe Event Center. 
Toddler & Me Play Indoor Play 10am-12pm from newborn to 5 years old. 

Golden Hour — Tuesday Socials age 55+ 
Indoor PickleBall — Weekly on Saturdays
Have you heard all the buzz about Pickleball? Pickleball, often described as a combination of tennis, Ping-Pong and badminton, grew nearly 40 percent between 2019 and 2021, making it America's fastest-growing sport.  Join in on the fun at Drop — In PickleBall every Saturday from 7:30am-11:30am at the Boys & Girls Club of North Lake Tahoe — 8125 Steelhead Ave., Kings Beach. 
Looking to learn the basics? Join in on the upcoming Pickleball Beginner's Clinic on Saturday April 8th 8:30-9:30am, space is very limited.  SIGN UP HERE
REGISTER HERE for Drop-in Pickleball
Check out the NTBA Business Directory for more ideas on our amazing local small businesses. We encourage you to show your love to and support including shops, restaurants, services and more!
Celebrate Mother's Day Sunday, May 9
Mother's Day is a celebration honoring the mother of the family, as well as motherhood, maternal bonds, and the influence of mothers in society that celebrated on various days in many parts of the World. This Mother's Day, make sure she knows just how much you love and appreciate her for being the glue that holds it all together.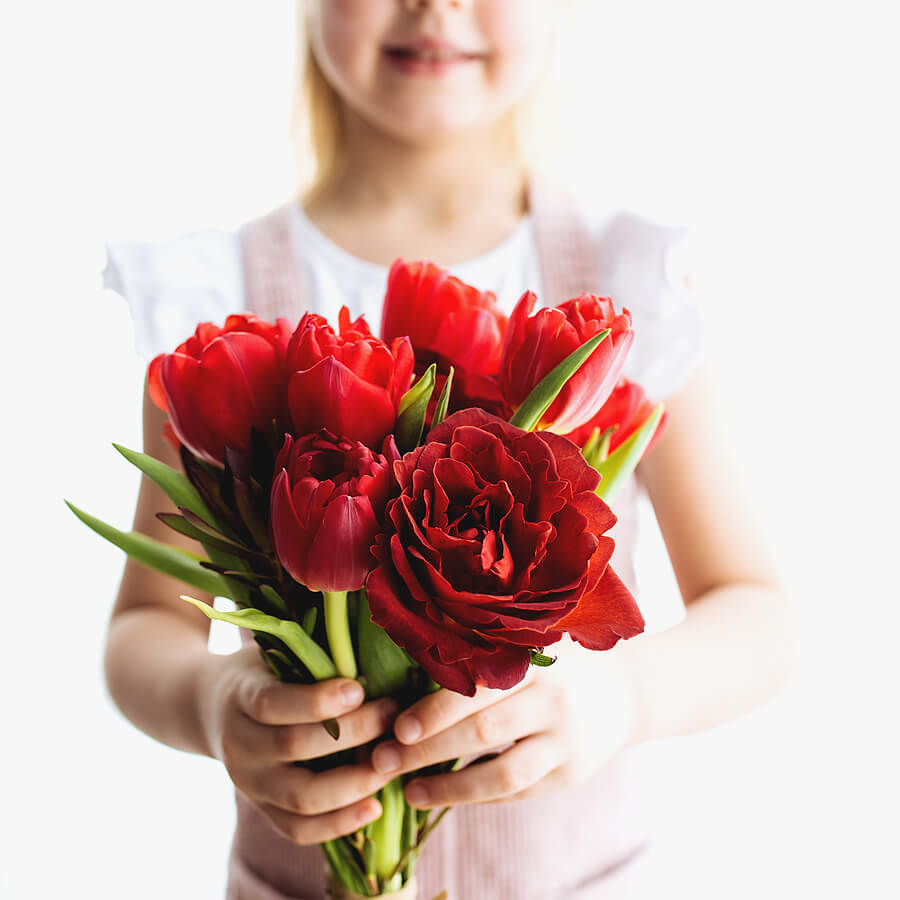 Thursday, April 22 | A day created to inspire everyone to protect our planet.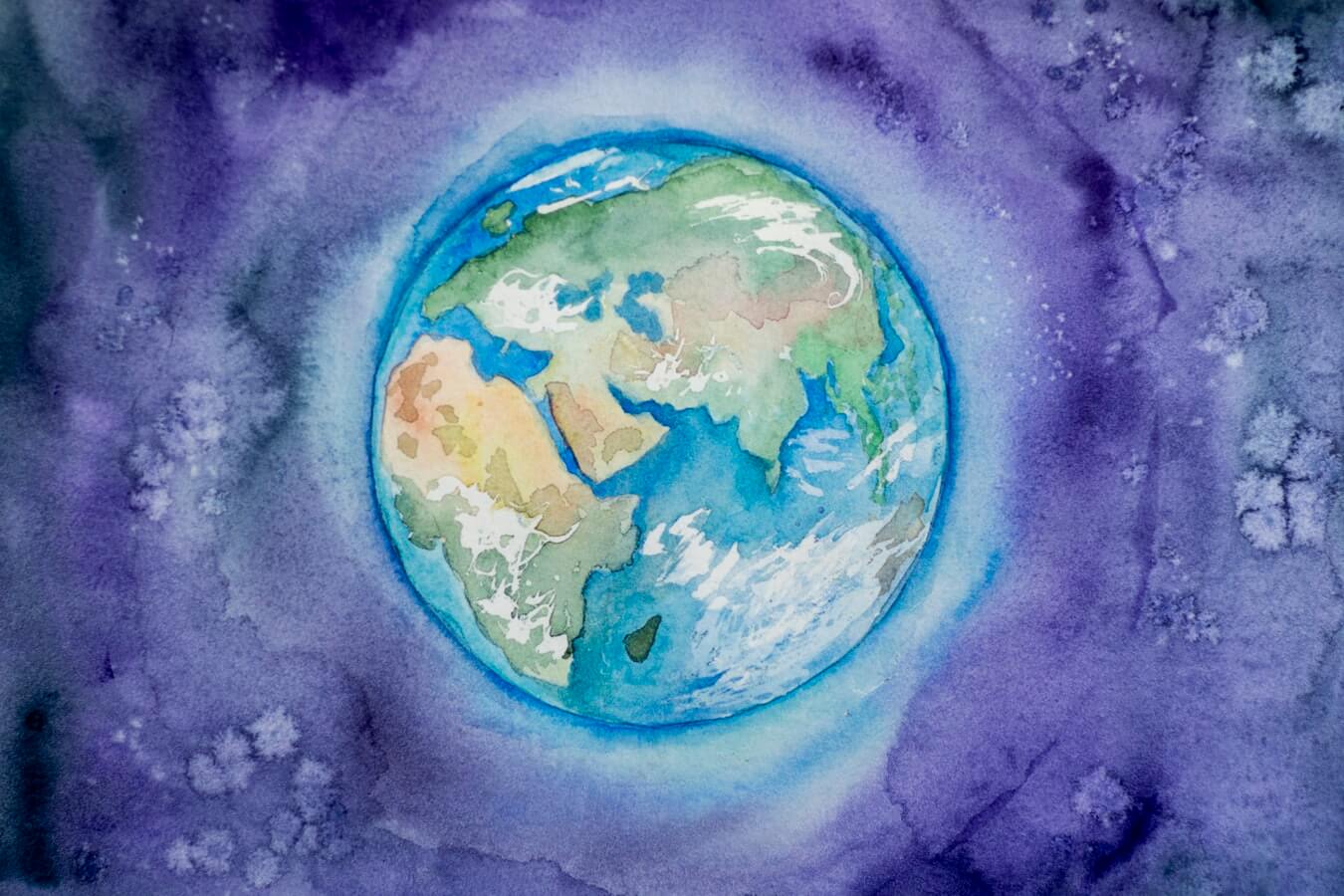 Wild & Scenic Film Festival
Celebrate Earth Day with MAP from the comfort and safety of your home and join us for the 6th Annual Wild & Scenic Film Festival on Friday, April 23. This year's festival will be hosted virtually, featuring an evening of family-friendly, environmental films, and a virtual auction with proceeds benefiting MAP's environmental advocacy work. The virtual lobby opens at 6:30pm and films start at 7pm. The virtual auction will open on Friday, April 23, at noon and will close on Friday, April 30 at noon. No ticket is needed for the virtual auction.
Recreate Responsibly!
In honor of Earth Day, Sierra State Parks Foundation is promoting recreating responsibly with a virtual art contest. All ages are encouraged to enter and prizes will be awarded for each age division. Deadline to enter your masterpiece is April 16 and the winners will be announced on Earth Day, April 22. Click here for more information.
South Lake Tahoe Earth Day Community Cleanup
As the snow melts, winter litter is exposed. Help us celebrate Earth Month and kick off the start of Tahoe's warm weather by joining us for a physically distanced cleanup! What to bring: comfortable clothing/shoes, sunscreen, cleanup gloves (if you have them), hat, sunglasses, face mask, any snacks that you would like, and a full reusable water bottle. We provide: cleanup bags, clean gloves, hand sanitizer, sanitized cleanup equipment, wrapped snacks, canned water, lunch voucher, and a giveaway. All volunteers attending Keep Tahoe Blue events must fill out a waiver. Volunteers under 18 will need to have a guardian sign the waiver, and the volunteer must bring the signed waiver to the event. The guardian may also attend the event and can sign off for the minor at the event. For questions or more information, email events@keeptahoeblue.org. For more information and to RSVP, click here.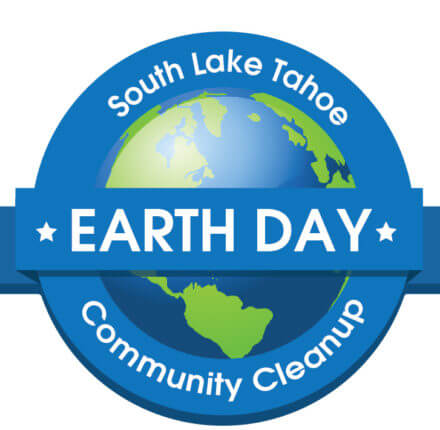 It's not too early to start thinking about next year's winter season.
Northstar has reduced all pass prices 20%* to make it easier for everyone to enjoy the mountains. Now an Epic Local Pass is $583, down from $729 last season. Or you can ski and ride for $67 a day with an Epic Day Pass. Find the pass that fits you and get more value from one day to every day. Epic for Everyone. (*North American pass products only. Restrictions and exclusions apply. See full terms and conditions for details.​)
Find your Mt. Rose ski pass for the 2021/22 season here. Renew your season pass today and save $100.