Cross Country Skiing in North Lake Tahoe

Nordic Ski Areas
Explore the most concentrated region of groomed cross country ski and snowshoe terrain in North America. For details about local Nordic skiing areas scroll and click to find resorts and local areas offering everything from full-service amenities, rentals and gear plus information about access and conditions.  Get out and explore North Lake Tahoe Nordic!
Tahoe City's Winter Sports Park
The Tahoe City Winter Sports Park offers cross-country skiing, snowshoeing, sledding and a small sled hill for young children, as well as a restaurant and bar. Their groomed cross country ski trails wind around 4km of meadow terrain with views of Lake Tahoe. Trails are groomed daily with both traditional cross country ski tracks and wide lane for skate skiing.
Northstar California Cross Country, Telemark, and Snowshoe Center
Visit the mid-mountain center where you can enjoy Cross Country Skiing and Snowshoeing. Bring your own gear, or rent top-of-the-line equipment and get ready to enjoy the 1,400-square-foot cross country center, staffed with knowledgeable and trained professionals. Take your experience to the next level by booking a tour with a private guide to see the best trails and breathtaking views scattered throughout the resort.
Tahoe Donner Cross Country
With the beautiful new Alder Creek Adventure Center as your basecamp you'll explore Tahoe Donner Cross Country Ski Center's 100km of immaculately groomed trails over more than 2,800 acres of stunning Sierra scenery. Afterward enjoy some of the best food in Truckee at the Alder Creek Cafe. Voted as one of the top-three cross country ski areas in North America by USA Today, Tahoe Donner Cross Country Ski Center offers a modern fleet of rental equipment, a large selection of cross country apparel, fresh organic food from the Alder Creek Cafe and an après ski menu at the Trailside Bar. The center's friendly, helpful staff includes experienced ski technicians, talented ski instructors as well as a professional and national/volunteer ski patrol.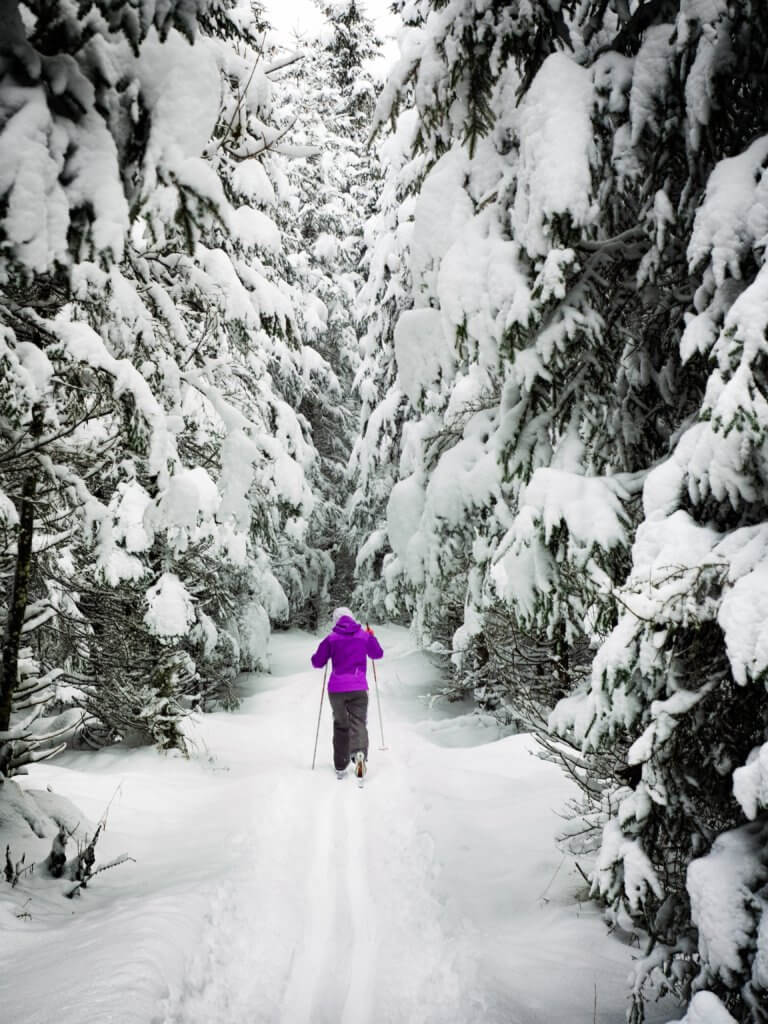 Far West Nordic Ski Education Association
Far West Nordic Ski Education Association is a 501(c)(3) nonprofit organization whose mission is to promote the sport of cross country skiing and facilitate competitive XC skiing for juniors (under age 20), seniors (ages 20-29) and masters (age 30 and up). Far West Nordic is particularly active with juniors, bringing coaching and a variety of training programs to our younger generations. They're cross country skiing enthusiasts and racers — and they want to attract more people into this phenomenal sport! Far West Nordic is here to serve individuals of all ages and abilities, for both skate and classic skiing. They support a wide variety of XC ski programs in California, Nevada, and Hawaii and encourage individuals to participate in the many competitive ski events offered in our region.
Auburn Ski Club Training Center
Auburn Ski Club Training Center is located on Donner Summit and is one of the few organizations offering Alpine, Nordic, Biathlon and Snowboard training centers in the country. As the top racing and training venue in the western United States, ASCTC was named USSA Nordic club of the year in 2001 and 2005, and Snowboard Club of the Year in 2010. ASCTC has hosted many national championship events including: XC Junior Nationals in 1971, 2005, 2009 and 2015; the 2004 NCAA Nationals, the 2015 US Biathlon Nationals and the 2017 USSA SuperTour.
Resort at Squaw Creek Cross Country Center
The Nordic Center at the Resort at Squaw Creek offers approximately 18 kilometers (400 acres) and eleven trails of meticulously groomed trails that wind through the stunning Squaw Valley meadow and surrounding hillside. Onsite ski rental/repair shop, lessons, five restaurants, heated pools and luxurious spa and health club.
Royal Gorge LLC Ski Resort
North America's largest cross country resort, Royal Gorge offers skiers, skaters & snowshoers endless options for winter adventure, accessing 6 distinct trail systems across majestic Donner Summit. The Summit Station Lodge offers a full service headquarters for rentals, retail, food & beverage and more, with a knowledgeable staff at the ready to help make your adventure a great one. Home to California's first and only snowkiting school, the more adventurous can harness the power of the wind and glide effortlessly across the Van Norden Meadow. And new this season, summertime bikers will love the new single track trails for fat tire snowbiking, complete with full rental fleet of Surly bikes. With neighboring Sugar Bowl Resort in its second year as the new owner/operator of this iconic Tahoe XC destination, Royal Gorge has indeed made a triumphant return to its once & former glory.
Tahoe Cross Country Ski Area
For the cross country skier and snowshoer visiting the Tahoe area, Tahoe Cross Country offers a high quality recreation experience for all ability levels. The 65 kilometer trail system is machine groomed daily with state of the art snow groomers. Twenty one separate trails lead skiers and snowshoers through beautiful Ponderosa Pine and White Fir forest, into open meadows, and up to stunning views of Lake Tahoe and its surrounding peaks. 3 trailside warming huts provide ideal locations for getting out of the weather, enjoying a break and a free hot chocolate or tea. 8 kilometers of dog friendly trails allow families to include the entire family during their visit to the snow for healthy outdoor recreation. Join us at Tahoe Cross Country this season.