$50,000 in Special Event Marketing Sponsorship Funds Available for 2022 – Apply Now!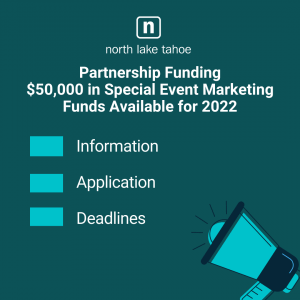 We are excited to announce a call for applications for the 2022 Special Event Partnership Funding cycle!  The North Lake Tahoe Resort Association facilitates this program for annual special events in the North Lake Tahoe region. The total amount of funding available, among all recipients collectively is $50,000.
Interested producers can find the application and additional information
HERE
.
What You Need to Know
Applications will be accepted for events in the 2022 calendar year and need to be submitted no later than Friday, October 29, 2021 to Katie Biggers,
katie@gotahoenorth.com
or dropped off in person at the NLTRA Offices located at 100 North Lake Blvd. in Tahoe City.
If you intend to apply for funding please note the following:
Awarded funds must be used for marketing purposes—they can not be used on operational costs.
Applicants will need to present their application to a selection panel on Thursday, November 4, 2021. Times will be assigned after the applications have been submitted. Presentations will be approximately 20 minutes and could be conducted via Zoom if necessary.
Events must generate overnight visitors for at least one (1) Placer County lodging partner to be considered for funding.
Applications must be completed to the best of your ability to be considered.
Following the application and evaluation process, a number of events will receive funds through the program. Funding will be awarded in early December 2021 after recommendations are accepted by the NLTRA Board of Directors.