First piece of artwork for Kings Beach roundabouts installed
The first of two public art pieces for Kings Beach's roundabouts has been installed, with "Estrella" by Roger Berry placed overnight Nov. 12 at the Bear Street and state Route 28 intersection. This highly-anticipated project follows years of planning and community involvement.
"This piece is truly a community project," said District 5 Supervisor Jennifer Montgomery. "Artwork in King Beach's roundabouts is a fitting accent to the major investment we've made through the Kings Beach Commercial Core Improvement Project. We greatly appreciate the community's input in choosing this piece and are happy to welcome "Estrella" to Kings Beach."
Two final pieces were selected from a field of five proposals narrowed down from the initial 38 submissions through two review panels and a community viewing and balloting process, which received approximately 435 votes.
"This is the community's sculpture," said artist Roger Berry. "This installation continued to surprise me because it truly evolved during the creation of the piece. I hope people will find surprises of their own when they enjoy the installation for themselves. I made "Estrella" to become part of the community and for the community to enjoy for years to come."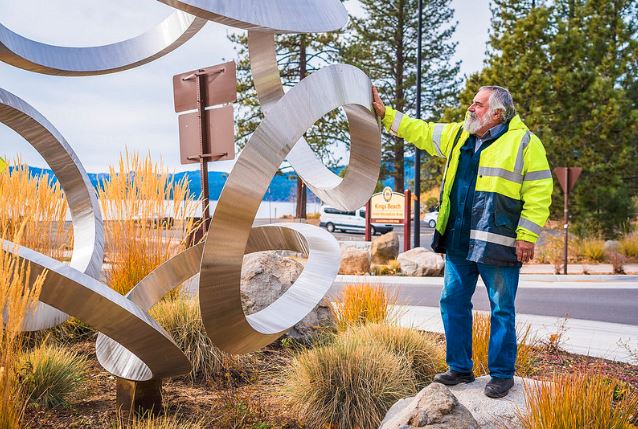 The name Estrella is Spanish for "star," which is a nostalgic reference to Berry's time spent in Lake Tahoe; specifically his childhood memories of gazing at the stars in Lake Tahoe's night sky. While creating the piece for Kings Beach, he reflected on these memories and realized that from any angle viewers will always be able to enjoy the Lake Tahoe stars through the installation, just as he did as a child. This inspired the piece's name.
"The placement of "Estrella" marks a significant milestone for Kings Beach and this endeavor. We would like to thank Placer County for their support and partnership as well as the many individuals and organizations that made this possible," said Tahoe Public Art founding member Steve Miller.
In June 2017 the Placer County Board of Supervisors approved a grant partnership with Tahoe Public Art in the amount of $209,152 to manage the installation of the artwork for both Kings Beach roundabouts. Prior to this approval, Tahoe Public Art found the artists, managed the public outreach and assisted with the process of receiving the appropriate approvals through Caltrans.
The project is funded with transient occupancy tax revenue collected in unincorporated eastern Placer County as well as private donations made through Tahoe Public Art. Annual funding of $10,000 for future maintenance will be set aside in the county's Lake Tahoe tourism and promotions budget. Installation of the second piece, "Daow Aga" by artist Brett Moten, is expected to take place in spring 2019.