Date
Sep 05 2021
Cost
$30 General / $45 Limited Reserve
The Truckee Historical Revue
TRUCKEE TAHOE COMMUNITY CHORUS
performs

The Truckee Historical Revue
WHERE: Piper's Opera House in Virginia City, Nevada
DATE: Sunday, September 5, 2021
TIME: 2pm & 7pm
TICKET PRICES: $30 General Admission Seats;  $45 Limited Reserve Seats
TICKETS GO ON SALE: Monday, July, 19, 2021 truckeechorus.org and at the door — if not sold out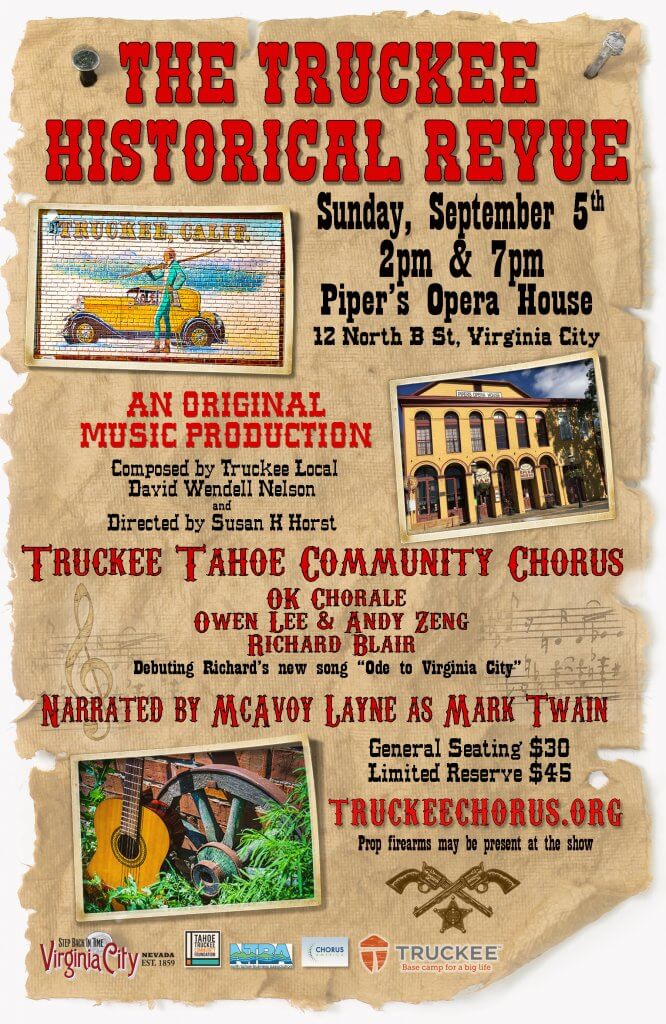 The Road Show recreates the hugely successful original production from May 2019 that traces the history of Truckee and surrounding areas, beginning with Native American days and culminating with the 1960 Olympics in Squaw Valley. It recounts truths about the Gold Rush, Silver Boom, Railroad Building, Boca Beer, Chinese and Irish immigrants, and Legends including the Donner Party. 
Virginia City and Truckee are linked in history. Truckee shipped ice harvested from its ponds to cool the miners in Virginia City. Truckee timber was used to support mines in the Comstock Lode and was laid along the Virginia and Truckee Railroad line. Virginia City retains the magic of the Old West.  Piper's Opera House is the perfect venue to present the history of Truckee with original music, accompanied by a video collection of historic photos and images, and some 50 participants in period attire.
Revue stories and music were composed by Truckee Local David Wendell Nelson, with additional songs by Richard Blair, who will debut his new song "Ode to Virginia City." McAvoy Layne will narrate the show as Mark Twain. Also appearing with TTCC and Richard Blair are live local musicians, the barbershop group OK Chorale, and guest singers Owen Lee and Andy Zeng. TTCC Artistic Director Susan K Horst will conduct the performers.
Don't miss this entertaining and enlightening extravaganza!