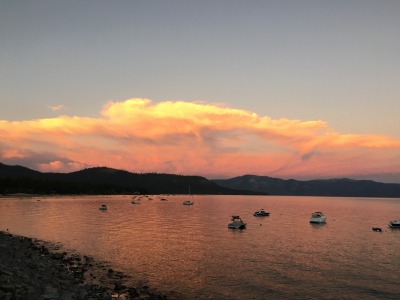 Date
Jun 07 2021
Time
6:00 pm - 9:00 pm
Cost
$70 per person
Sunset Kayak Tour
This kayak trip with Tahoe Adventure Company is a great way to end a full day. Offered every Friday as well as other days by reservation. We meet at sunset and get on the water to watch the colors change and the stars appear. We'll cover some astronomy and tour the perfect distance before landing on the beach for some snacks, and more stargazing.
Typical Distance and Time: 1–2 miles, 2+ hours on the water
Level of Difficulty: Easy to Moderate
Location: Tahoe Vista Recreation Area
Cost: $70 per person; 4 person minimum
Tour Date: June 7, 2021
Tour Time: 6:00–9:00PM
COVID updates: Masks are required at check-in, and we ask that you practice social distancing with our staff. We are sanitizing all our equipment in between uses. By booking this tour you are agreeing that you and the rest of your party do not have any symptoms of, or known exposure, to COVID-19. If this changes you will inform us prior to your booking.
---
Summer 2021 Dates and Times:
June 7   6:00–9:00PM
June 11   6:00–9:00PM
June 18   6:00–9:00PM
June 28   6:00–9:00PM
July 2   6:00–9:00PM
July 9   6:00–9:00PM
July 16   6:00–9:00PM
July 23   6:00–9:00PM
July 30   5:30–8:30PM
August 6   5:30–8:30PM
August 13   5:30–8:30PM
August 20   5:00–8:00PM
August 27   5:00–8:00PM
September 3   5:00–8:00PM
September 10   4:30–7:30PM
September 17   4:30–7:30PM
September 24   4:30–7:30PM