Date
Apr 20 2019
Time
5:00 pm - 6:30 pm
Cost
Free; Suggested $5 donation
Sierra Speaker Series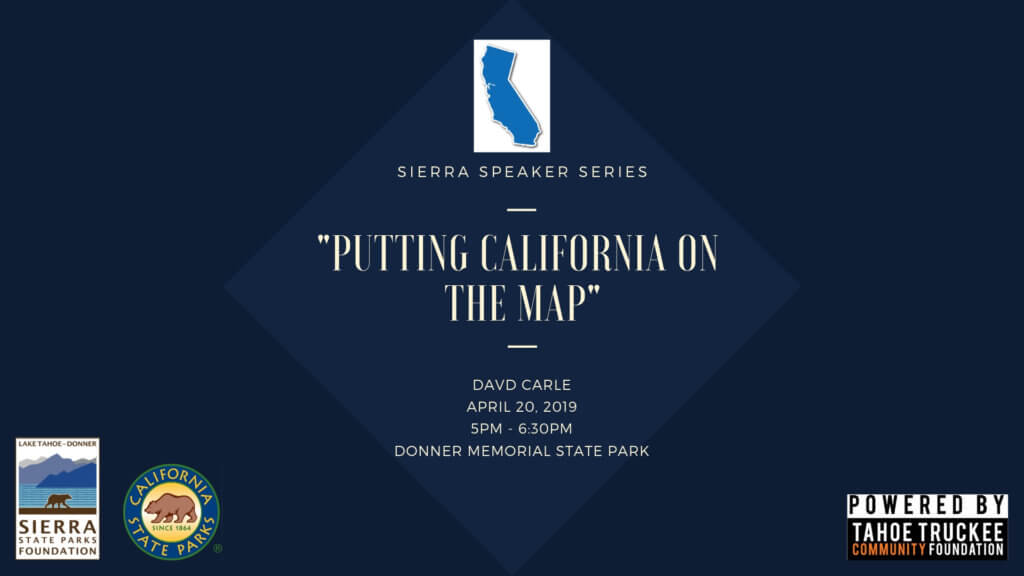 Sierra Speaker Series: "Putting California on the Map" with David Carle
Complimentary refreshments will be served, with beverages available for purchase. A $5 donation is suggested for this free program. Parking is free after 5pm.
Putting California on the Map, von Schmidt's Lines is the biography of Alexey W. von Schmidt, '49er, surveyor and civil engineer, written by David Carle. Von Schmidt surveyed northern California land grants and ran the Mt. Diablo Baseline across the Sierra Nevada in 1855, through lands that would eventually become part of Yosemite National Park. He was the first to survey the complete California/Nevada boundary line in 1872-73. Von Schmidt was also a creative civil engineer who completed major water projects for San Francisco and constructed the first dam on the Truckee River at the mouth of Lake Tahoe, as part of a never-realized project to deliver water to San Francisco from the elevated lake. A.W.'s energetic efforts to give shape to California, to devise long-distance water delivery systems and astonishing engineering solutions for challenges faced by the young state, were nearly forgotten after he died within a month of the 1906 earthquake and fire that devastated San Francisco. This biography is the first comprehensive telling of his life and of his leadership in the shaping of 19th century California.
David Carle was a California State Park Ranger for 27 years, including 19 years at the Mono Lake Tufa State Reserve. He grew up in Orange County, California, received a bachelor's degree at UC Davis in Wildlife and Fisheries Biology and a master's degree from CSU Sacramento in Recreation and Parks Administration. He taught biology and natural history courses at Cerro Coso Community College in Mammoth Lakes. He has authored 13 non-fiction books, and two novels (see book's web page at www.davidcarlebooks.com).