Date
Sep 12 2021
Time
1:00 pm - 4:00 pm
Cost
Free
Return to Laurel Canyon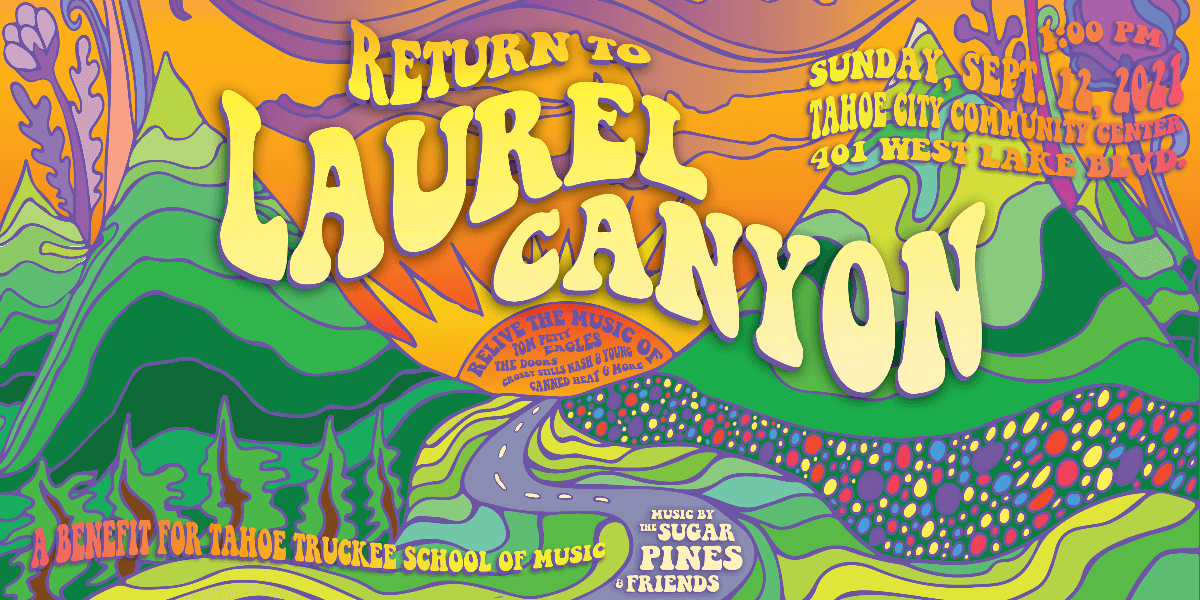 Our community is back in their homes, the heroic first responders are bringing fires closer to containment, and we're ready to move forward!
LET'S HAVE A SHOW!
JOIN TAHOE TRUCKEE SCHOOL OF MUSIC FOR THIS SPECIAL EVENT!
RETURN TO LAUREL CANYON!
Featuring the music of Tom Petty, Eagles, Crosby Stills, Nash & Young, The Byrds, Canned Heat, The Doors, Jackson Brown, Linda Ronstadt, The Mamas & the Papas and more!
Performed by the Sugar Pines & Friends
FEATURING PERFORMANCES BY:
David Diamond of Berlin
Matt & Donna Axton
Tim High
Ben Martin
Brian Silverman
Michael Loomis
Emily Quinn
Steve Kershisnik
Kai & the Monsters, opening at 12:30pm
PLUS! Announcer 'Lindsay with an A' doing Laurel Canyon Trivia!
DATE & TIME
Sunday, September 12 | 1-4pm
LOCATION
Tahoe City Community Center
401 West Lake Blvd | Tahoe City, CA 96145
TICKETS ON SALE NOW!
$25 general admission
$10 children 12 & under
Buy Now! Limited quantities available
Don't forget to bring a picnic & low-back beach chair!
PARKING INFORMATION
Parking at Tahoe City Community Center for carpool only (4+)
No off street parking on Rt. 89 or Granlibakken Road
Shuttle provided from 12-1pm + 3-4pm, to/from TART Transit Center
Walking, biking, and use of public transportation including TART Connect is recommended
BIG THANKS to the Tahoe City Public Utility District for their generous sponsorship!