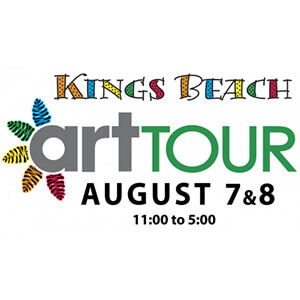 Date
Aug 07 2021
Time
11:00 am - 5:00 pm
Cost
Free
Kings Beach Art Tour
The Kings Beach Art Tour features twenty local artists who will open their studios to display and sell their art in a safe, outdoor setting. The self-guided studio art tour will take place Saturday, August 7 and Sunday, August 8, 11am to 5pm in the Kings Beach and Tahoe Vista area.
-Twenty independent, emerging and seasoned artists
-A wide variety of art mediums
-Seven studio locations – most with two or more artists
-Access studios by driving or walking within a 1.4 mile radius
With the cancellation of art festivals and most galleries closed for more than a year due to the coronavirus pandemic, artists in the Kings Beach and Tahoe Vista area are again opening their studios and displaying their art. A wide variety of art will be featured and available for purchase including painting, jewelry, pine needle basketry, pastels, ceramics, mixed media, photography, glass, fabric, yarn, and additional art mediums. Several emerging artists will be publicly showing their art for the first time.
Attendees are able to interact with artists, see where art is created, learn about art process and technique, and directly purchase artwork from the artist. Most of the seven studio locations feature two or more artists and their creations.
There is no tour fee and no sponsoring organization … just a simple collaboration among artists, friends and neighbors!