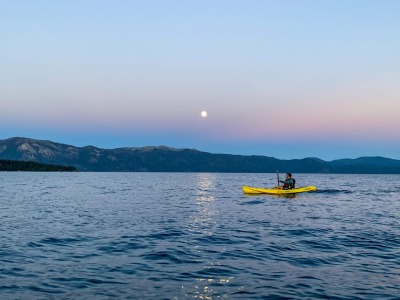 Date
Sep 29 2023
Time
5:30 pm - 8:30 pm
Full Moon Kayak Tours
Float in a kayak on the clear blue water while the sun sets the sky on fire, the full moon rises, and the stars twinkle! The water will be calm and quiet as the wind dies down and other boats button up for the night. Increase your knowledge of astronomy with jaw dropping views of Lake Tahoe illuminated by the light of the full moon. We paddle for about two hours before landing on the beach to cap it all off with hot drinks, snacks, and more stargazing on the beach.
When the moon isn't Full, Sunset and Astronomy paddles are still offered with a focus on viewing the stars and constellations.
Typical Distance and Time: 1-3 miles. Times vary, 3 hours.
Level of Difficulty: Easy – Moderate..
Location: Tahoe Vista Recreation Area.
Cost: $80 per person, 1 person minimum
Single travelers are welcome to join existing groups. Call to inquire!
Book HERE