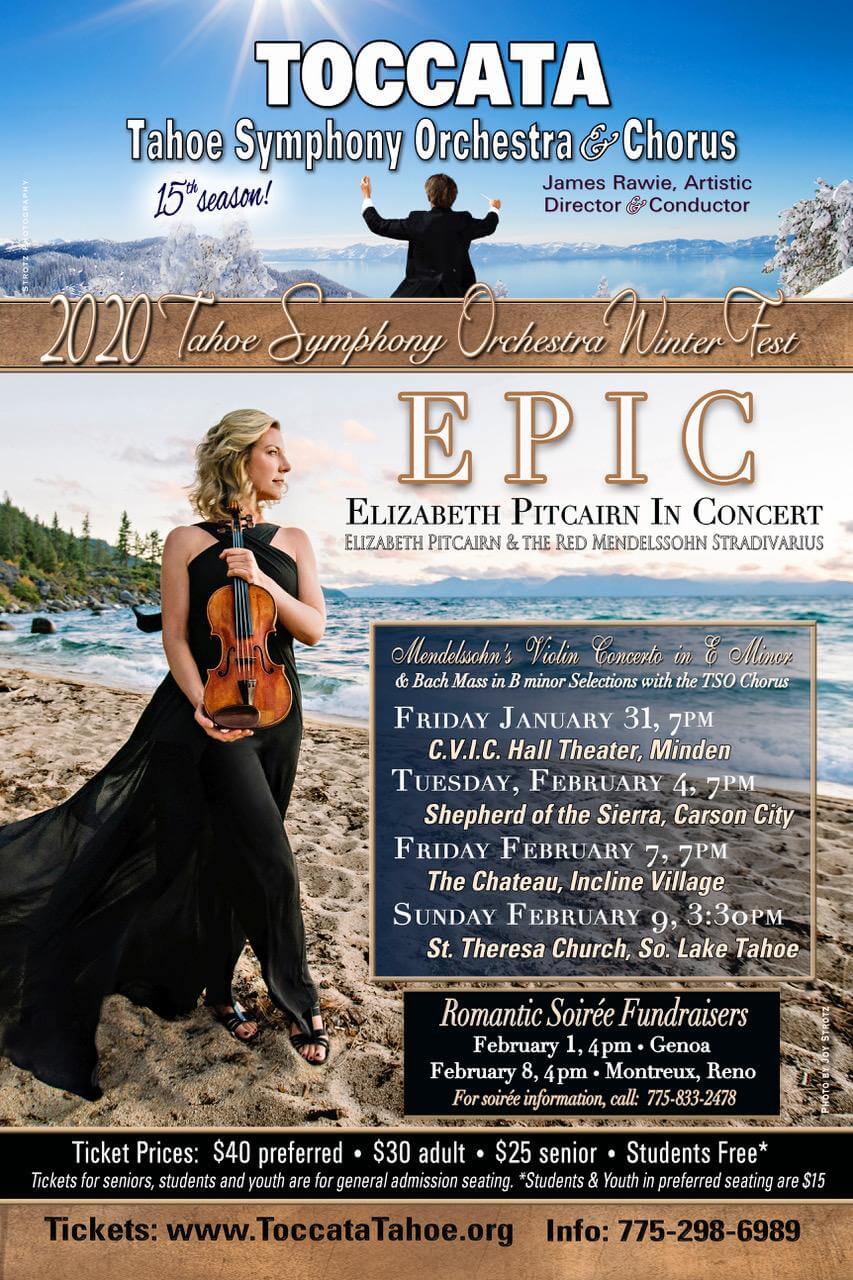 Date
Jan 31 2020
Cost
$25–$40/Concerts; $125/Fundraisers
EPIC with TOCCATA Tahoe Symphony
The EPIC performances begin with selections of the J.S. Bach choral masterwork, Mass in B Minor, performed by the Tahoe Symphony Orchestra, Chorus and soloists. The second half features violinist Elizabeth Pitcairn performing Felix Mendelssohn's celebrated Violin Concerto in E minor.
In all performances of EPIC, virtuoso violinist Elizabeth Pitcairn plays in collaboration with the world-famous "Red Mendelssohn" Stradivarius violin which was previously owned by the Mendelssohn family. These performances will be particularly meaningful as Ms. Pitcairn will be playing the Mendelssohn Concerto on the Red Mendelssohn violin.
Ms. Pitcairn is featured in a DVD special feature of the Academy Award-winning film "The Red Violin," and regularly performs with top orchestras around the world. TOCCATA is thrilled to showcase this incredible talent during our EPIC series.
PERFORMANCES:
Friday, January 31 at 7pm ………… The CVIC Hall, Minden
Tuesday, February 4 at 7pm ……… The Shepherd-Sierra Lutheran Church, Carson City
Friday, February 7 at 7pm …………. The Chateau, Incline Village
Sunday, February 9 at 3:30pm ….. St. Theresa's Catholic Church, South Lake Tahoe
General admission is $30 for adults and $25 for seniors. Young persons, under age 23, enjoy FREE General admission. "Front and Center" preferred seating prices are $40 for adults and $15 for youth/students. Please Click here for Advance Tickets.
---
In connection with this Concert Series, Toccata will also present two intimate Soiree Musicale Fundraiser events. Elizabeth Pitcairn will perform dazzling selections on Violin, with pianist Donna Axton.
Saturday, February 1 from 4–6pm: The first Soiree occurs at home of Donna & Corky Axelson, in Genoa Lakes Ranch.
Saturday, February 8 from 4–6pm: The second Soiree occurs at the Montreux Golf Course Country Club, in Southwest Reno. The hosts will be Tom & Carol Burkhart.
Tickets cost $125 per person, and MUST be purchased in advance.  Please Click here for Advance Tickets.