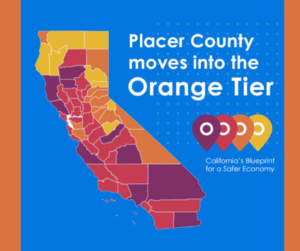 Placer County moved to Orange (Tier 3) on Tuesday, Oct. 13. This directly impacts restaurants, retail stores, cinemas, gyms and salons. Find all business tier guidance and operational modifications 
HERE
.
Under Tier 3 guidelines, the following updates are in place:
Restaurants can open indoors at 50% capacity
Retail can increase indoor capacity with modifications
Cinemas can open indoors with 50% capacity
Gyms & Fitness Centers can open at 25% capacity
Personal Care Services can open indoors
There are four tiers based on a county's risk level: Purple (widespread) Red (substantial), Orange (moderate), and Yellow (minimal). Every county is assigned to a tier based on its rate of new cases and positivity. At a minimum, counties must remain in a tier for at least 3 weeks before moving forward. Data is reviewed weekly and tiers are updated on Tuesdays. To move forward, a county must meet the next tier's criteria for two consecutive weeks. Then, 21 more days must pass before a County can move into the next tier. If a county's metrics worsen for two consecutive weeks, it will be assigned a more restrictive tier.
How can we get in a lower tier? We can all do our part to help Placer County reach a lower tier by wearing a mask in public, washing hands regularly, keeping at least six feet of physical distance when in public, and limiting in-person interactions with people you don't live with. Follow Placer County's status
HERE
.
Resources: