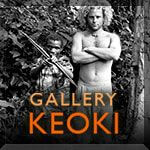 ​NTBA Premier Member:

Gallery Keoki

​Location: 1850 Village South Rd #42, Olympic Valley, CA 96146
Member Since: 2022
Website: www.gallerykeoki.com

Keoki Flagg's life, spirit of mountain, travelling the world and living in Tahoe inform and inspire his art and writings. Exclusively featured at Gallery Keoki in the Village at Palisades Tahoe for 20 years, Keoki's bespoke original and focused perspective bonds and brands all we do. Spanning all 7 continents for over 3 decades, Keoki's award winning collections can be viewed at Gallery Keoki (open year round) or on line. Featured in leading edge technology, each custom designed Limited Edition installation will refine and define your space. Gifts and books are also available. For a complimentary consultation, please contact Lynn Gibson at 530-414-8500/lynn@galleryKeoki.com. www.gallerykeoki.com  Nothing extra, nothing ordinary…Extraordinary.