NTBA Staff & Kings Beach Featured on KTVN Channel 2 News
Tahoe Prepares for Summer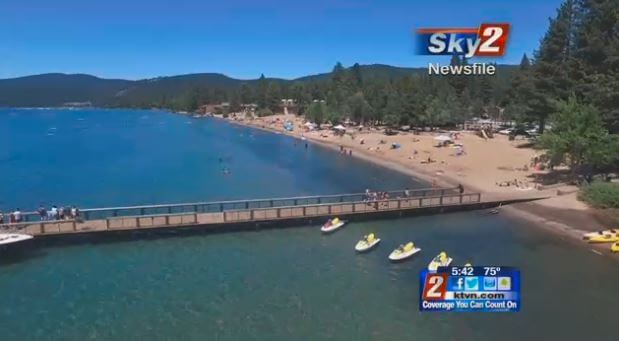 Tahoe this summer will likely look a lot like last year. Which means plenty of water, not much beach, and lots of people.
It might just be May, but some people are already looking ahead.
"Once our patio gets open and once the weather starts to get nice everyone gets antsy and comes out here," said Chanel Miller of Jason's Beachside Grille.
More water can be good for business and tourism. The concert series at Kings Beach starts June 29th.
"Actually last year was our busiest season yet and so we believe it's just going to continue to grow and more locals and visitors will be able to enjoy the event," said Ashley White from North Tahoe Business Association.
They're hoping this year will be just as big as last year. With less beach to enjoy this summer season maybe instead of sitting on a chair or a blanket during the events why not enjoy beautiful lake Tahoe and bring a floatie or a boat. You don't have to get to Kings Beach from car or bike, you can get there from water too.
"The water is high, the beach is still a little smaller, but it's worked with us in the past," said White.
"Now it's just like a lake right now. The beach used to go out pretty far but it's a good thing, cause we got a lot of snow last year and this year," said Miller.
The concert series goes through August 31st and is every Friday except August 10th.