Lake barge fires nearly suspended 2020's Fourth of July celebrations.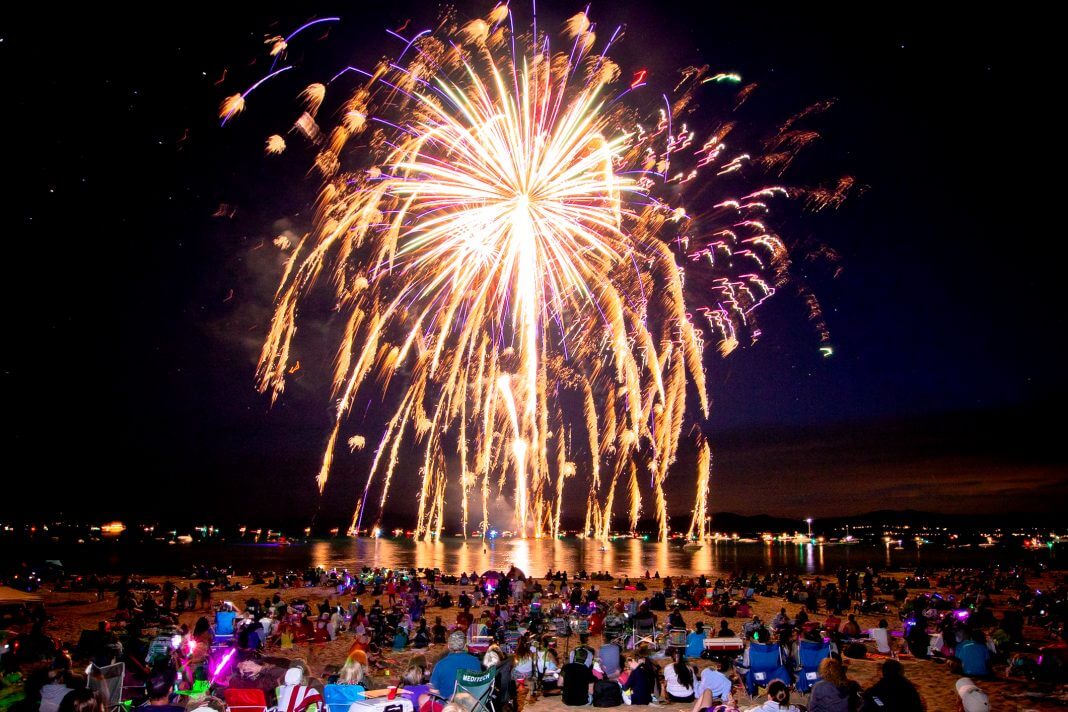 Fourth of July firework celebrations for 2020 in both Tahoe City and Kings Beach almost became a no-go back in September 2019.
A letter from North Tahoe Fire Protection District Fire Marshal Todd Conradson informed Placer County and other stakeholders of the fireworks shows that the NTFPD "will no longer permit aerial outdoor displays of fireworks until the District has marine capabilities for fire, rescue, and hazardous materials incidents on Lake Tahoe."
Since that Sept. 13 letter, meetings between fire officials, county and business representatives, and other community members have shifted the suspension into conversations about fireworks permitting and best management practices. Thus, the suspension has been lifted thanks to follow-up actions by multiple organizations and agencies.
"The community really came around and said, 'Okay, what are we trying to solve for here?'" said Jennifer Merchant, Placer County's deputy CEO for Tahoe. "Some of that related to Placer County's own permit process, and we've been working with the community and the fire district to get feedback on improvements we could make to our current permit process. That's what we're working on right now."
Part of the NTFPD's concerns stemmed from two barge fires associated with fireworks in recent years, and fire crews' inability to provide suppression efforts from the shore.
"This incident," stated the letter from September about a 2019 Labor Day barge fire, "demonstrates the need to have resources readily available to respond to fires on the lake and to mitigate the potentially devastating effects they can have on the water, environment, and communities on shore."
Merchant told Moonshine Ink that county staff is working to streamline the fireworks permitting process by combining forms, as well as ongoing communication with the fire district to understand where a role for them is best placed.
"The most important thing we heard in feedback from the community is this best management practices concept," she continued. "That is really ensuring that to the extent fireworks fall out, the shells that go into the lake come out of the lake. I think that was highlighted by the barge fire in September that there weren't things, according to the fire district, they felt were in place to keep pollution out of the lake."
Merchant explained they're looking into other models around the lake, and taking things out of their cleanup plans that make the most sense.
The conversations about firework shows extended to the North Tahoe Business Association and the Tahoe City Downtown Association, organizations that head the Kings Beach and Tahoe City shows.
"We worked closely with [Placer County] and [the NTFPD], and they have been really considerate of who we are," said Alyssa Reilly, executive director for the NTBA. "We are both not-for-profit business associations, so they're conscious of that, conscious of our capabilities … We're all working together, and we all have the same goals. We want to see fireworks and we want it to be done safely."
Fire Marshal and Division Chief Steve McNamara with the NTFPD said his district is committed to finding solutions to firework-related issues: "We are jointly working with Placer County staff and our community leaders to ensure that outdoor aerial fireworks displays are not a threat to life, property, or the environment."
Main Image Caption: FOURTH OF JULY celebrations are important events for North Shore communities, said Placer County Deputy CEO Jennifer Merchant. In 2020, Tahoe City is celebrating its 75th year, while Kings Beach is holding its 41st. Photo courtesy Silent A. Photography