North Lake Tahoe & Truckee Golf Courses
Spring is here so it is time to get back outside and onto the green! Discover world-class North Lake Tahoe golf courses that are one in a million, from the amazing views and clean mountain air to the professional services and fantastic amenities. These scenic golf courses are a must try whether you are vacationing or living in North Tahoe.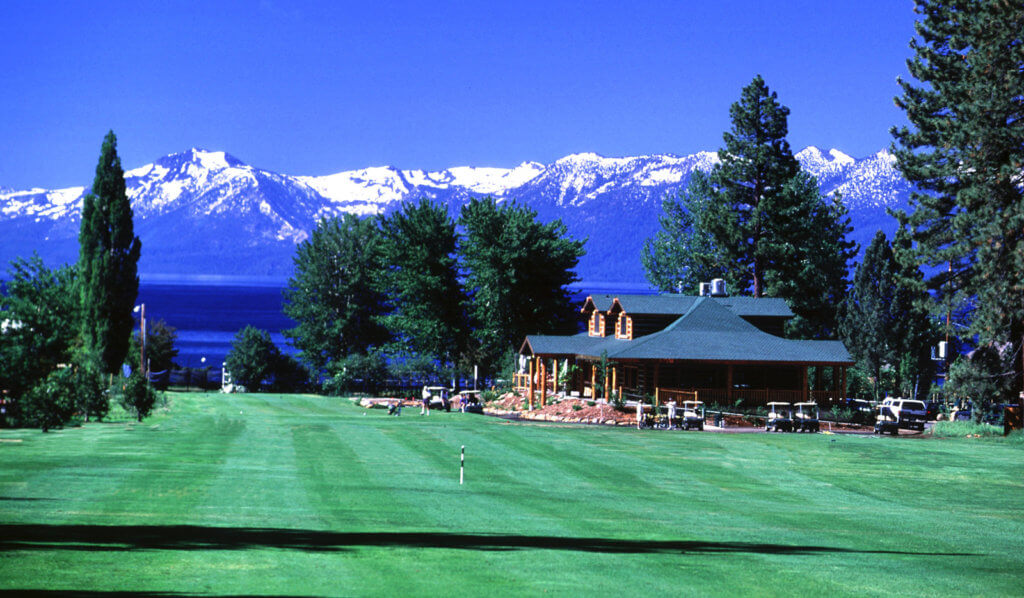 9 Holes
Par 36
Yardage 3,420
Old Brockway Golf Course: Among the plethora of golf courses near Kings Beach is the historic Old Brockway Golf Course, designed by renowned Scottish architect John Duncan Dunn. Featuring tight fairways and lush greens, it was rated a Top Ten Golf Course by Golf Today magazine and was the location of the first Bing Crosby Golf Tournament in 1934. Golfers can challenge themselves with more than 3,400 yards, including two par 5 holes. Amenities include a clubhouse, pro shop, practice facilities, putting green, and driving range. Old Brockway was the first 9-hole course in the US to become an Audubon Cooperative Sanctuary. Grab your clubs and reach a new height of relaxation as you enjoy the majestic views and meander through the towering pines at Old Brockway Golf Course.
Northstar California Golf Course
18 Holes
Par 71
Yardage 6,097
Northstar California Golf Course: The vibrant and exciting Northstar at Tahoe Golf Course is stunning! Renowned golf course architect Robert Muir Graves designed it to combine the mountainous landscape with the Martis Valley's open meadow. He created two distinct 9-hole courses that each has a challenge in store for you. The courses wind seamlessly through tall pine trees using the natural terrain to create a challenging game. The Meadow Nine (holes 1-9) starts with a links-style course where you can drive hard and perfect your low accurate shots. The Mountain Nine (holes 10-18) will require a bit of creativity to make it through the tree-lined fairways and small greens. If you are looking to improve your game, the resort has a driving range and offers adult, family, women, and junior golf lessons. Northstar also has a beautiful full-service clubhouse and pro shop, and sports bar. Located near Northstar and Truckee, California, this course is one of Lake Tahoe's best resort golf experiences. Open daily, May 18 through mid-October from 7:30 a.m. – 6:00 p.m.
18 Hole
Par 72
Yardage 7177
Coyote Moon Golf Course: If you are looking for one of the most scenic golf experiences in the country, consider Coyote Moon's 250 acres of rolling hills, towering pine trees, wild flowers, magnificent granite outcroppings, and crystal clear Trout Creek. This course is truly secluded with not a home in sight to spoil the view. Let the clean mountain air refresh your senses as you focus on a challenging 18-hole game. Designed by former PGA Tour player Brad Bell, Coyote Moon is a test to golfers of all levels. Expect a few forced carries, many tee shots with ample landing areas, and holes that are well protected by trees, sand, and water. There is a pro shop onsite, practice facilities, and a bar and grill. The course is located in historic Truckee, California, and a mere 15 minute drive from Lake Tahoe.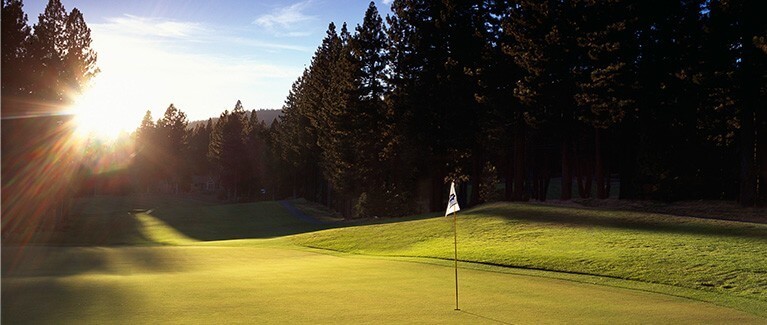 Incline Village Championship Golf Course
18 Holes
Par 72
Yardage 7,106
Incline Village Championship Golf Course: Incline Village has two championship golf courses that are world renowned for their spectacular Lake Tahoe views and challenging greens. The more expensive of the two is the Incline Village Championship course. It was originally designed by architect Robert Trent Jones Sr. in his classic, yet distinctive style, and was completely renovated and updated in 2003. Players will discover this course not only demands accuracy and a hard drive, but creativity as well. The Championship Course was voted onto Golf Digest Magazine's "Best in State" list and was listed among Golfweek Magazine's "Best Courses to Play in 2011. The fairways are tightly cut and bordered by towering pine trees. You can expect bunkered greens and lateral water hazards on almost every hole. Improve your game at the state-of-the-art practice facilities, get advice from PGA and LPGA professionals, or hang out in the Chateau Club House with its golf shop and restaurant. Rent an electric golf cart equipped with GPS and take advantage of the snack bar and bar carts on the course. The Incline Village Championship Golf Course's mountain layout is exquisite to say the least and is considered a true masterpiece.
Incline Village Mountain Course
18 Holes
Par 58
Yardage 3,519
Incline Village Mountain Golf Course: The second Incline Village Golf Course is the Incline Village Mountain Course, which is the more affordable of the two and a very fun challenge as well. Designed by award-winning golf course architect Robert Trent Jones Jr., the mountain layout with its towering old growth trees makes it a very scenic 18-hole course. The course was actually carved out of a pine forest and has no artificial landscaping making it a continual challenge to all skill levels. You can expect elevation changes, and remarkable green sites and contours. The terrain can be tricky to navigate and will demand accuracy more than distance. The course is a par 58 and takes about 3.5 hours to play. Visit Incline Village Mountain Golf Course for a unique golf experience.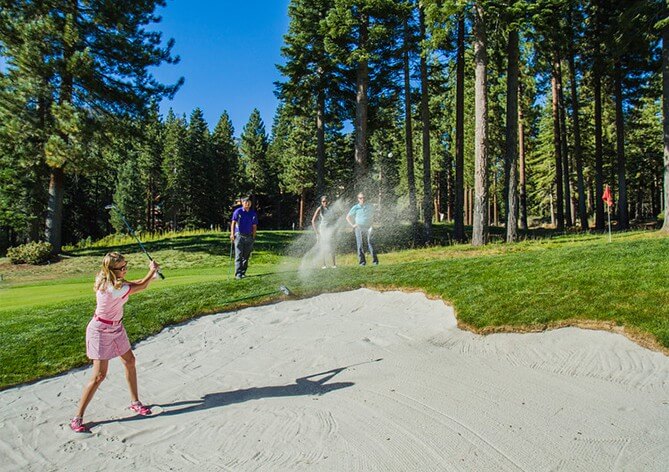 Old Greenwood Golf Course
18 Hole
Par 72
Yardage 7,518
Old Greenwood Golf Course:  Old Greenwood is a true gem of a course! This world-class Jack Nicklaus Signature Golf Course was rated among the "10 Best New Public-Access Courses in the Country" by Golf Magazine and placed fourth among "America's Finest New Upscale Public Courses" by Golf Digest magazine. There is nothing that quite compares to Old Greenwood's acres of immaculate greens interspersed with stately pines and blue sagebrush. The 18-hole course is simply stunning with the natural landscape incorporated into the course. Old Greenwood is also surrounded by a planned community with gorgeous homes. If you have young golfers or want to improve your own game, sign up for The Golf Academy at Old Greenwood. It offers junior camps, private and group lessons, and customized corporate sessions. Book a two-course special at Old Greenwood and its sister course, The Golf Club at Gray's Crossing, which is right across the street. Receive a warm welcome from the friendly staff, check out the golf shop, relax in the clubhouse, and finish off your day at the Terrace Grill. Any way you look at it, Old Greenwood offers an excellent golfing experience.
9 Holes
Par 35
Yardage 3,022
Ponderosa Golf Course: Nestled in the pines just outside of Truckee, California, is a remarkable little golf course with well-maintained greens the pose and challenge to all skill levels. Ponderosa Golf Course is a 9-hole course with 3,018 yards and a par of 35. It was designed by prolific golf course architect Bob E. Baldock in 1961. The NCGA rated course is fairly flat and flanked by ponderosa pine trees, while challenging sand traps are placed strategically throughout the course. Rates at Ponderosa are more affordable than some of the other courses in the area. Family owned and operated since 1963, Ponderosa Golf Course has a friendly and accommodating staff standing by to help you with all your golfing needs. Although there is no driving range here, there are golf cart rentals, a pro shop and snack bar. Tee off at Ponderosa this season!

Resort at Squaw Creek Golf Course
18 Holes
Par 71
Yardage 6931
Resort at Squaw Creek Golf Course:  For a truly unique links-style course, head to the Resort at Squaw Cree Golf Course. This little piece of paradise is surrounded by six majestic mountain peaks, making it one of the most breathtaking courses in Lake Tahoe. It is located at the base of Squaw Valley USA and offers 18 holes of championship golf and a par of 71. After 10 years of extensive planning, the course was designed by renowned golf course architect Robert Trent Jones Jr. in such a way as to preserve the natural landscape, wetlands and wildlife habitats of the Squaw Valley. The result is a high-quality, environmentally conscious golf course that is recognized by Audubon International as a Certified Cooperative Sanctuary. Squaw Creek is considered extremely challenging to beginners and experts alike who must focus on accuracy rather than distance. Squaw Creek Sports golf shop is onsite, and lessons, golf carts, and valet parking are also available.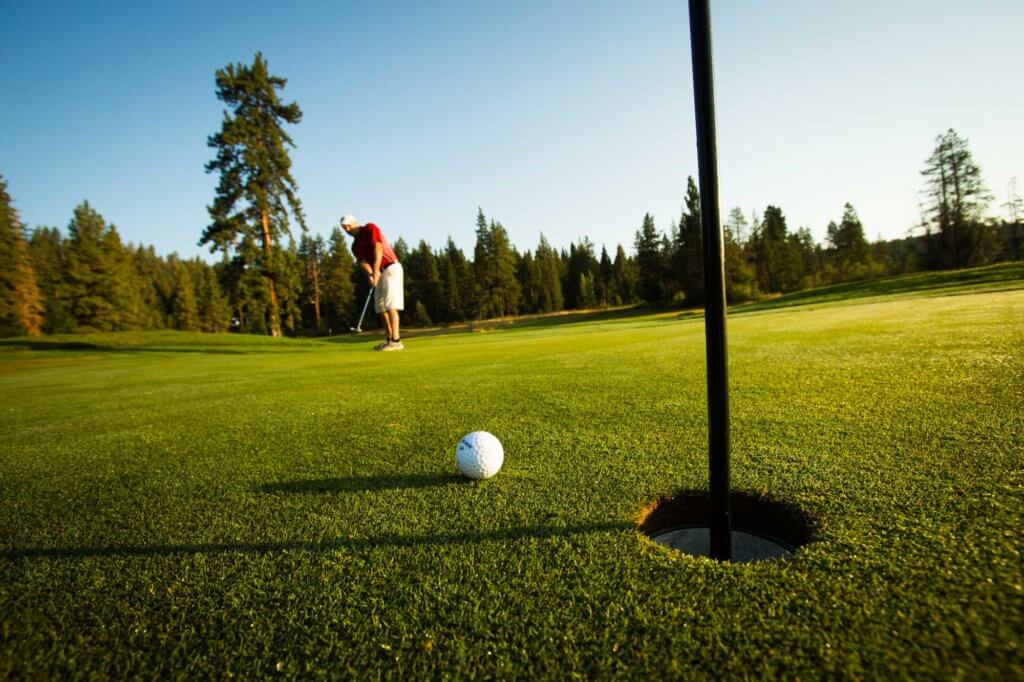 9 Holes
Par 33
Yardage 2,691
Tahoe City Golf Course: The lush, evergreen-lined Tahoe City Golf Course is in a municipal setting and one of the least expensive courses in the area. It offers 9 holes and is a great place to practice the basics. The relaxed staff is courteous and helpful. Golf carts are available, as well as a driving net, restaurant and sports bar. This public course has a rich history and was originally built in 1917 by May "Queenie" Dunn Hupfel. In the 1950s this course was frequented by famous individuals such as Frank Sinatra, Bing Crosby, Dean Martin, Bob Hope, the Mills Brothers, Ken Venturi, Andy Williams, Harvey Ward, and Sammy Davis Jr. Today, Tahoe City Golf Course is the host of the annual Two Bills Memorial Golf Tournament, which has raised more than $200,000 for the Tahoe City Little League program over the last 10 years. Check out the Tahoe City Golf Course for a different kind of golfing experience.
18 Holes
Par 72
Yardage 6,917
Tahoe Donner Golf Course: Located just minutes off Interstate 80 in Truckee, Calif., the Tahoe Donner Golf Course is one of the premier public golf courses in the high Sierra. This 18-hole, 7,002-yard par-72 championship golf course is located on 200-acres of pristine Sierra landscape with towering pines featuring stunning views and meandering creeks, granite rock formations, elevations changes and greens so consistently pure they have been recognized as the "Best Greens in the Tahoe Region." Tahoe Donner Golf Course is a true mountain course where golfers can enjoy the peace and quiet of the natural surroundings for an incredible value. For more information, head to Tahoe Donner Golf Course.