Make Earth Day Your Everyday
Celebrate Earth Day in North Lake Tahoe
April 22 marks the 53rd Anniversary for Earth Day, a day created to inspire everyone to protect our planet. Earth Day was founded in 1970 and is now observed by over 190 countries and more than one billion people. Today, Earth Day is more important than ever! Read along to find ways you can celebrate Earth Day globally, locally, and all year long! 
Global Earth Day Celebrations
Follow along with the global Earth Day and join Earth Week Live. "The Earth Day 2023 theme is focused on engaging the more than 1 billion people, governments, institutions, and businesses who participate in Earth Day to recognize our collective responsibility and to help accelerate the transition to an equitable, prosperous green economy for all. Whether you are taking actions virtually or in person – you can join the largest environmental movement on Earth!" – EarthDay.org.
Local Earth Day Celebrations
Take Care Tahoe's Earth Week – Take Care Tahoe will host the annual Tahoe Earth Week Challenge, featuring daily activities from Monday, April 17 through Saturday, April 22. Organized in collaboration with environmental and educational organizations around Tahoe and Truckee, activities are designed to be fun and informative for both kids and adults.
To participate in the Tahoe Earth Week Challenge, take photos or videos throughout the week aligned to the themes below and share the experiences with friends, family, teachers, or on social media using #EarthWeekTahoe.
For more details and to get involved in Take Care Tahoe's Earth Week activities, visit https://takecaretahoe.org/earthweek2023 and tag @takecaretahoe and #EarthWeekTahoe on Instagram and Facebook.
Save the Date | NTBA's Community Clean Up Days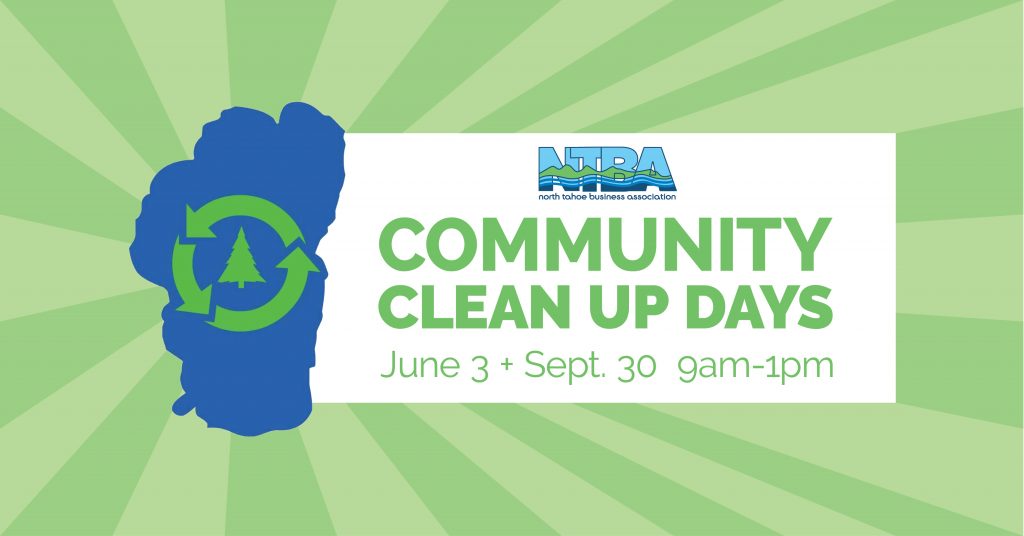 North Lake Tahoe's 28th Annual Clean Up Days will take place on Saturday, June 3 + Saturday, September 30, 9am – 1pm, RAIN OR SHINE in Kings Beach, Tahoe Vista, Carnelian Bay and Crystal Bay. Over 100 volunteers will take to the streets to pick up trash. Last year, over 2,500 pounds of trash was collected. Learn more HERE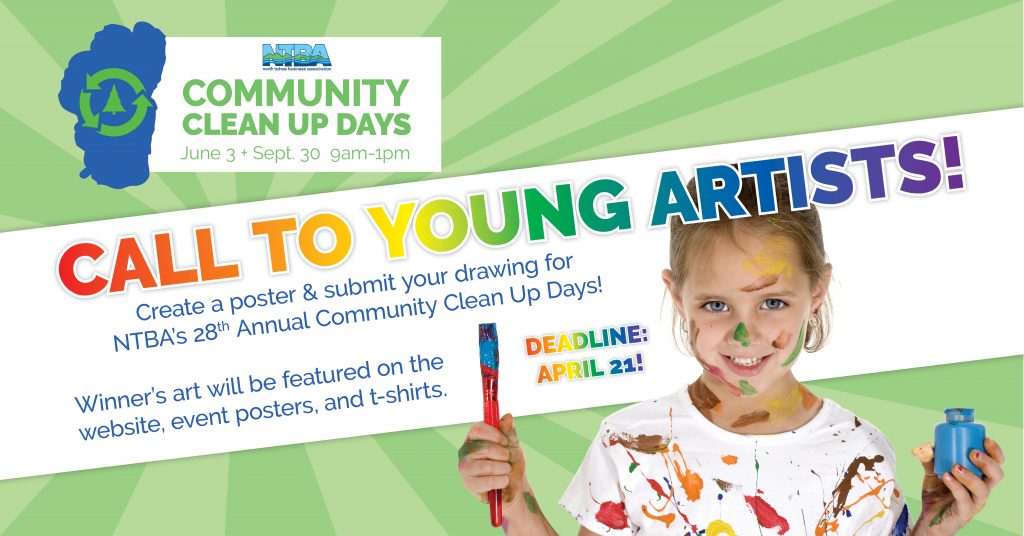 NTBA is seeking artists (age 12 and under) to create a poster for the 28th Annual Community Clean Up Days. We are looking for colorful pictures that highlight the spirit of keeping our community clean and beautiful! Submit your drawings to: info@northtahoebusiness.org by April 21. The winning drawing will be featured on our website and printed on posters. Learn more HERE
Explore Additional Volunteer Opportunities with NTBA
The North Tahoe Business Association offers a variety of volunteer opportunities in a supportive, fun, and friendly environment. Community and business members are encouraged to serve on a committee and/or help with annual NTBA produced events.
Make Earth Day part of your everyday by checking out some of our amazing non profit members!
Here in North Lake Tahoe we are lucky to have some of the most impactful environmental non profit organizations that work hard to protect the Lake Tahoe Basin, promote environmental stewardship and education.
Check out the change makers below and see how you can get involved!