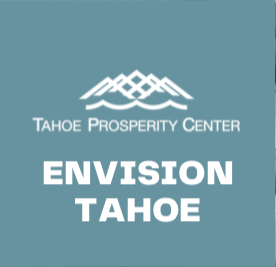 Tahoe Prosperity Center | 2022 Envision Tahoe Economic Summit
Lake Tahoe may be made up of many communities, but we are one lake and one regional economy, so what affects some of us, affects all of us. The annual Tahoe Economic Summit is an opportunity to catalyze change and take action for the benefit of our regional economy while supporting our community, quality of life and environment.
The theme for 2022 is "Envision Tahoe." Due to the negative impacts of the COVID-19 pandemic, plus the recent Caldor Fire, it is more critical than ever to look at economic diversification and recovery. Government leaders, local residents, business owners, young professionals, start-up companies, developers, investors, and entrepreneurs are all encouraged to attend to help us build a resiliency strategy that will benefit Lake Tahoe and all our communities.