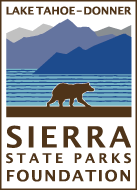 Date
Jul 20 2019
Time
5:00 pm - 6:30 pm
Cost
$5 Suggested Donation
Sierra Speaker Series: Lincoln Highway
July 20 from 5pm – 6:30pm
Donner Memorial State Park Visitor Center
12593 Donner Pass Rd., Truckee, CA 96161
Complimentary refreshments will be served, with beverages available for purchase. A $5 donation is suggested for this free program. Parking is free after 5pm.
The idea of the Lincoln Highway came from the fertile mind of Carl Fisher, the man also responsible for the Indianapolis Motor Speedway and Miami Beach. With help from fellow industrialists Frank Seiberling and Henry Joy, an improved, hard-surfaced road was envisioned that would stretch almost 3400 miles from coast to coast, New York to San Francisco, over the shortest practical route. Speaker Bill Von Tagen, from the California Lincoln Highway Association, will cover the progression of transportation from the Railroad to the Lincoln Highway.
Truckee- Donner Historical Society has partnered with Donner Summit Historical Society and Truckee Donner Railroad Society to create a multi-month long celebration of this Golden Spike event. Truckee would not be what it is today without the railroad coming through the route it did. The celebration has many entertaining events scheduled between May 1 and Labor Day, 2019. Powered by Tahoe Truckee Community Foundation.
More information about the event here: https://sierrastateparks.org/event/sierra-speaker-series-lincoln-highway/