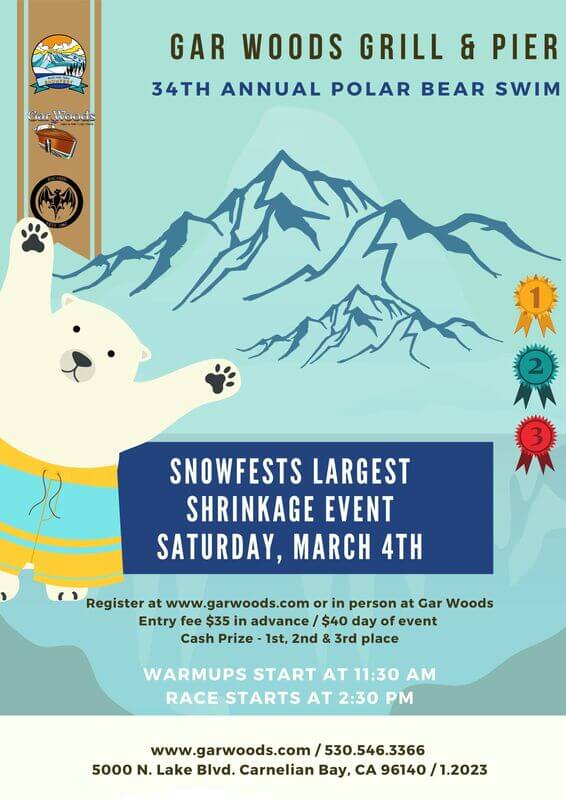 Date
Mar 04 2023
Time
11:30 am - 5:00 pm
Cost
Entry fee: $35 advance / $40 day of
Polar Bear Swim at Gar Woods
THE 34th ANNUAL POLAR BEAR SWIM AT GAR WOODS GRILL & PIER
SnowFest is almost upon us and Gar Woods Grill & Pier will be hosting the 34th Annual "Coolest and Largest Shrinkage" Event the Polar Bear Swim on Saturday, March 4th at 2:30 PM following the Tahoe City Parade.
Each year hundreds of spectators line the pier and deck to watch hardy souls brave the frigid waters of Lake Tahoe. Participants swim approximately 250 yards in 39-degree bone chilling water before returning to Gar Woods Bar to minimize their pain.
Free appetizers are provided to all following the swim and the event is capped off with a hugely popular raffle in the bar.
We realize businesses are bombarded with requests for donations. If you don't participate, we expect to see you in the water©. Your generosity in contributing to this community event will be greatly appreciated. Of course, if you have friends (or enemies) who you would like to see you swim…entry forms are available at Gar Woods or on our website at www.garwoods.com.