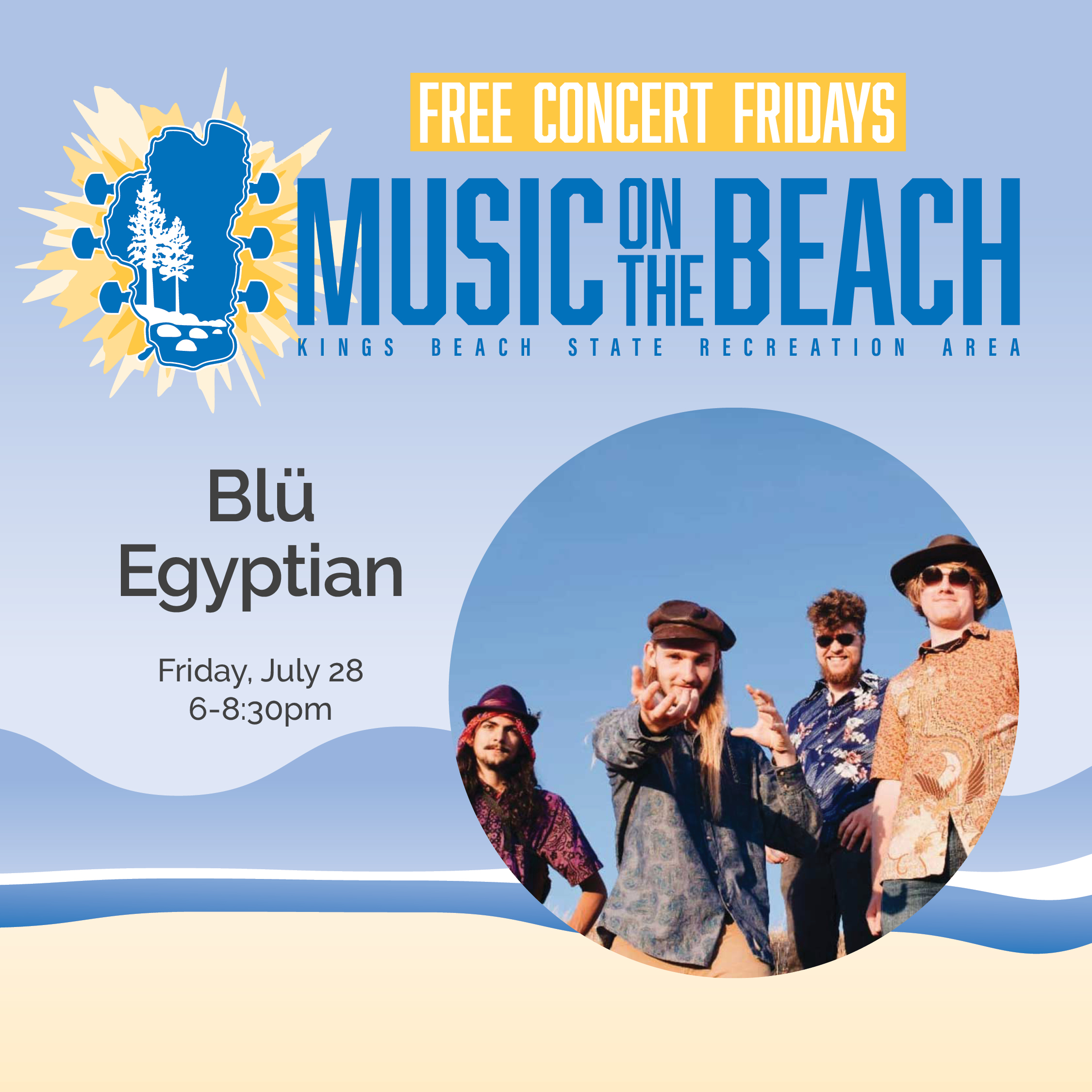 Date
Jul 28 2023
Time
6:00 pm - 8:30 pm
Cost
FREE
Music on the Beach with Blü Egyptian
West Coast indie groove sensations Blü Egyptian are a youthful quartet based out of Chico, CA. They have gained a reputation for their high energy shows with extended multi-genre jams, meaningful songwriting, and entertaining stage antics. Creating a unique fusion of funk, bluegrass, reggae, world music, rock n' roll, EDM, and more, they continue to push the musical spectrum everyday.
Music on the Beach
Free Concert Fridays from 6-8:30pm
June 16 – September 1 (excluding August 11), 2023
It's time to break out our happy dances! NTBA is beyond excited to announce that we are back with a FULL LINEUP OF LIVE MUSIC at our 17th Annual Music on the Beach concert series! Start your 2023 summer weekends off right by listening and dancing to FREE live music performances featuring a variety of genres on the beautiful North Shore of Lake Tahoe. Concerts take place every Friday night at the Kings Beach State Recreation Area; music starts at 6:30pm.
NTBA has decided to continue the love and dedicate our Music on the Beach series to the beloved Pam Emmerich. Pam was essential in the creation and development of Music on the Beach as well as the growth and sustainability of NTBA as a whole. Let's come together to keep Pam's memory alive through what she loved most, MUSIC and COMMUNITY.
NTBA looks forward to a FUN summer listening to live music, sipping cold beverages, and soaking in the amazing North Lake Tahoe sunsets every Friday night, all summer long, with YOU! We will be serving beer from Alibi Ale Works and wine from Truckee River Winery, in addition to non-alcoholic beverages. Local food vendors will have food available for purchase from 6-9pm. No outside alcohol or pets are permitted.
While we are thrilled for this summer and the opportunity to bring back LIVE events to our Kings Beach community, we will continue to keep our community's safety on the forefront.
Concert Sponsor: Las Panchitas
Food Vendors: Mountain Lotus Provisions, CA Gold Kettle Corn, Susie Scoops Ice Cream