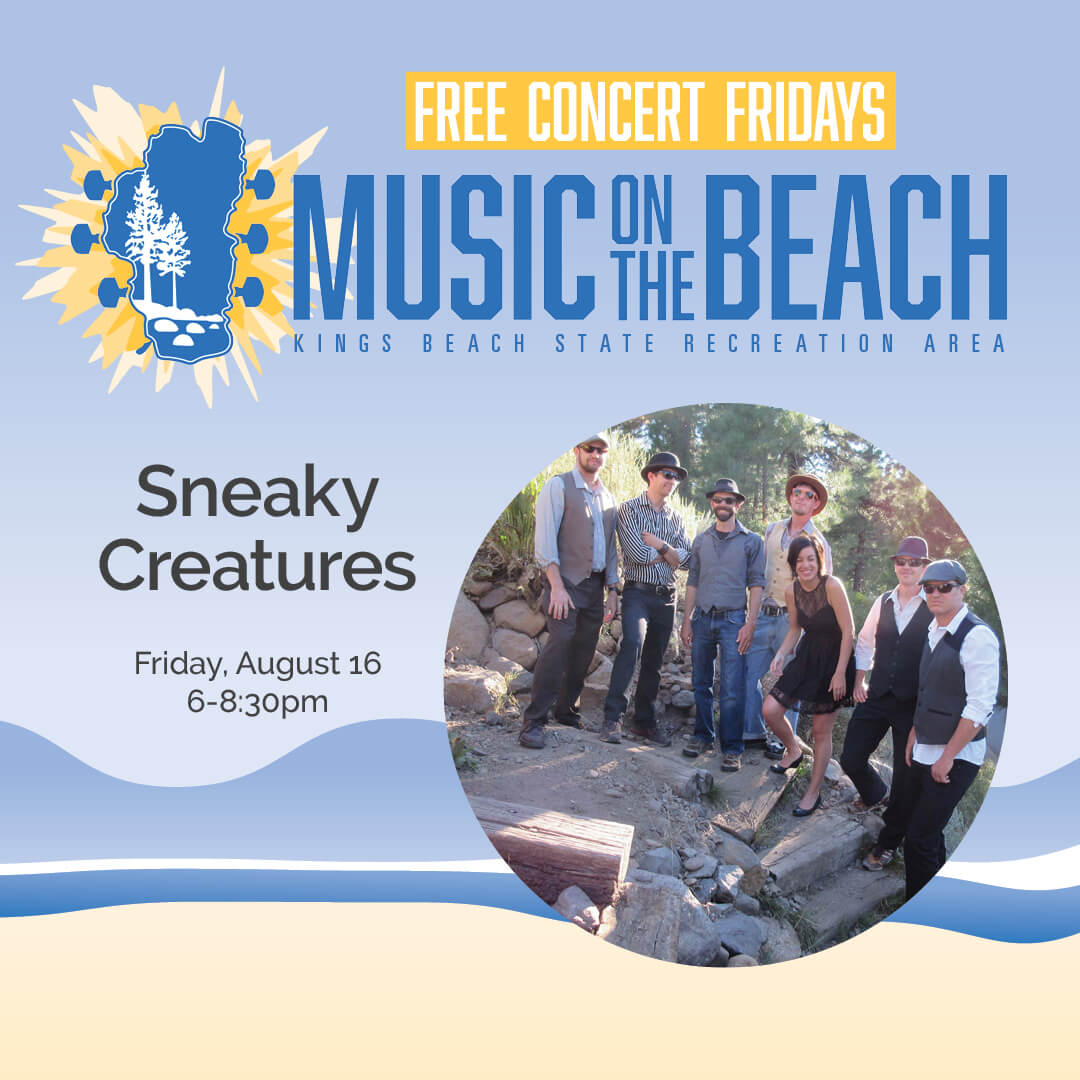 Date
Aug 16 2019
Time
6:00 pm - 8:30 pm
Cost
FREE
Music on the Beach with Sneaky Creatures
Sneaky Creatures is a mischievous alt-gypsy swing septet from Kings Beach, and they have been creeping into the North Lake Tahoe music scene with their unusual blend of rock, jazz, and dixieland funk. This lineup of seasoned Tahoe musicians come together to create a sound that is at once unique and original, and also strangely familiar.
Concert Sponsor:Mt. Rose Ski Tahoe
Music on the Beach Series Sponsors: Alibi Ale Works, Chango Presents, Gonsalves & Co., La Mexicana, Tahoe Biltmore, Tahoe Dave's Skis & Boards, Tahoe Quarterly, and The Grid Bar & Grill.
Food Vendors: Kaliko's Hawaiian Kitchen, Cheri's Hand Dipped Ice Cream Bars, and California Gold Kettle Corn
Music on the Beach
Free Concert Fridays from 6-8:30pm
June 28 – August 30 (Excluding August 9), 2019
Start your 2019 summer weekends off right by listening and dancing to FREE live music performances featuring a variety of genres on the beautiful North Shore of Lake Tahoe. Concerts take place at Kings Beach State Recreation Area and start at
6:30pm
. NTBA will be serving beer made with pure Lake Tahoe Water from 
Alibi Ale Works
, a local craft brewery, in addition to red and white wine from kegs and soda. Local food vendors will have food available for purchase from 6-9pm. No outside alcohol or pets are permitted.