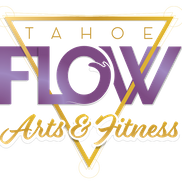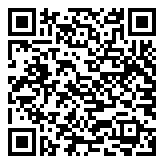 Date
Jun 17 2023
Time
8:00 am - 5:00 pm
Cost
Free
A Day of Healing Arts, A Free Community Event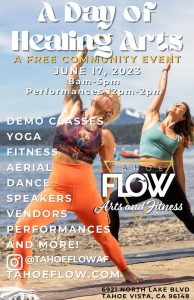 Join us Saturday, June 17th, 2023, from 8am – 5pm, for a fun and nurturing event for the whole Family!
Held at Tahoe Flow Arts & Fitness in our studio and outside garden space, our annual A Day of Healing Arts Festival is an all-day event benefiting the Kelly Smiley Youth Aerial Scholarship Fund.
We will showcase health, wellness, flow arts & movement practices, & practitioners in our community at this free, family-friendly event! There will be local vendors and we will have free demo classes and presenters staggered throughout the day, starting at 8am. Come learn about all our studio has to offer!
This year we will feature a performance from The Tahoe Flow Artists Apprentice Team & our Spring Student Showcase…With adult and youth student dance, circus-flow, & aerial performances!
Free demos and activities start at 8:00 AM. This event ends at 5:00 PM
Free yoga, dance, fitness & aerial demo classes all day. Local artisan, craft & food vendors all day.
Performances noon-2:00 PM, featuring adult and youth dance, circus flow, & aerial performances!
See the complete schedule of events and performances for the day at https://tahoeflow.com/a-day-of-healing-arts/#complete_schedule
Visit our Facebook Event Page: https://www.facebook.com/events/1783692422024876
We can't wait to see you at A Day of Healing Arts Festival, here at the studio June 17!