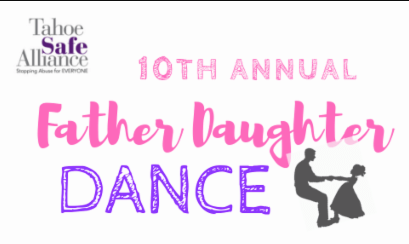 Date
Apr 27 2019
Time
6:00 pm - 9:00 pm
Cost
$30 for father/daughter couple & $5 for additional child
10th Annual Father Daughter Dance
In recognition of Child Abuse Awareness and Prevention Month, the Father Daughter Dance will be held on Saturday, April 27th.  The Father Daughter Dance is a meaningful and impactful evening for young girls and the special men in their lives!  Sorry ladies, but this event is for dads, grandfather's and uncles.   It is a one-of-a-kind event that allows Tahoe SAFE Alliance to promote healthy relationships and father-daughter bonding, while also demonstrating to young girls the importance of being treated with love, kindness  and respect.
The Father Daughter Dance plays an important role in Tahoe SAFE Alliance's outreach and service to families in the community who are affected by unfortunate acts of violence. Child abuse affects more than 10 million children in the U.S. each year. Family violence can have a devastating effect on children and cause significant deterioration in their emotional, physical, behavioral and cognitive  functioning. Tahoe SAFE Alliance helps families on the path to peace and to build a future where healthy relationships thrive and violence is not tolerated. The Father Daughter Dance is free for these families.
General Admission Father Daughter Dance tickets are $30 for a father daughter couple and $5.00 for each additional child.  Guests will enjoy DJ music and dancing, cake and snacks, activity booths, picture frame decorating, and more.  Guests will have an opportunity to purchase a keepsake photo from Kindred Soul Photography, www.daniellehankinson.com.