New $500 million state COVID relief grants program includes nonprofits – details below!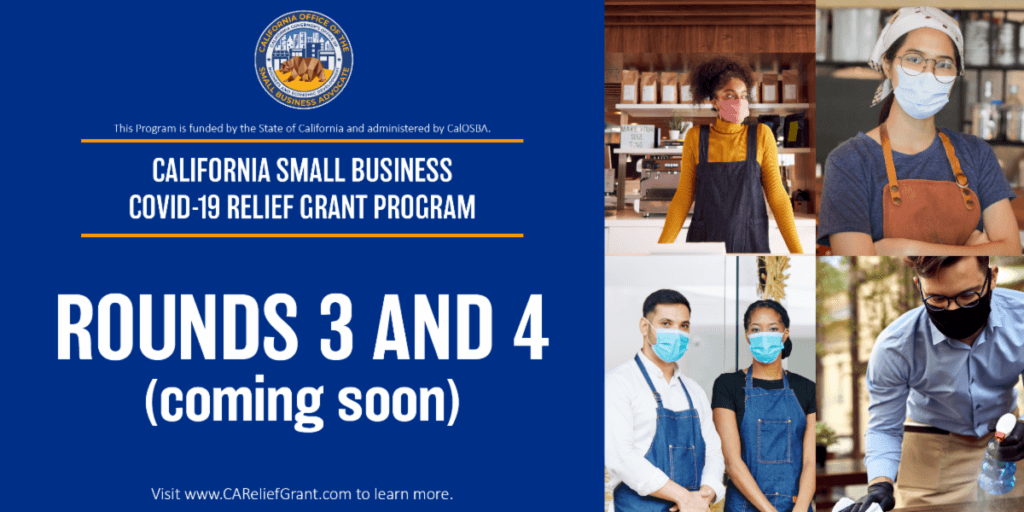 We are excited to announce two NEW rounds—Rounds 3 and 4—of the California Relief Grant.
On February 23, Governor Newsom signed into law a comprehensive package providing urgent relief for the small businesses of CA. The package provides an additional $2 billion – a four-fold increase over the $500 million currently being distributed – for grants up to $25,000 for small businesses impacted by the pandemic, and allocates $50 million of this total for non-profit cultural institutions.
Please read below for additional information about each round.
ROUND 3 (WAITLISTED FROM ROUNDS 1 AND 2)
Round 3 is a CLOSED round and only available to eligible applicants that have been waitlisted in Rounds 1 and 2. Applicants will be selected from the existing pool of waitlisted applicants. Applicants do not need to reapply.
Important Dates for Round 3
Closed Round Opens: March 05, 2021
Closed Round Closes: March 11, 2021
Start of Selection Notifications: March 05, 2021
ROUND 4 (ARTS & CULTURAL PROGRAM)
Round 4, The Arts & Cultural Program, will support California eligible nonprofit cultural institutions defined as registered 501(c)(3) nonprofit entities that satisfy the criteria for a qualified small business, but with no limitation on annual gross revenue, and that are in one of the following North American Industry Classification System codes:
(A) 453920 – Art Dealers
(B) 711110 – Theater Companies and Dinner Theaters.
(C) 711120 – Dance Companies.
(D) 711130 – Musical Groups and Artists.
(E) 711190 – Other Performing Arts Companies.
(F) 711310 – Promoters of Performing Arts, Sports, and Similar Events with facilities.
(G) 711320 – Promoters of Performing Arts, Sports, and Similar Events without facilities.
(H) 711410 – Agents and Managers for Artists, Athletes, Entertainers, and Other Public Figures
(I) 711510 – Independent Artists, Writers, and Performers.
(J) 712110 – Museums.
(K) 712120 – Historical Sites.
(L) 712130 – Zoos and Botanical Gardens.
(M) 712190 – Nature Parks & Other Similar Institutions
Important Dates for Round 4
Application Opens: March 16, 2021
Application Closes: March 23, 2021
Start of Selection Notifications: TBD
How to Apply
There will be a new online application for eligible nonprofit cultural institutions to complete, which will also be available through multiple partner portals.
Eligible nonprofit cultural institutions for the Arts & Cultural Program will be permitted to complete a new application even if they already applied in the COVID-19 Relief Grant Program; provided that grants will not be awarded to any eligible nonprofit cultural institution if such entity has otherwise been awarded a grant.
For more information, please continue to check www.CAReliefGrant.com for the latest information.
Thank you,
NorCal SBDC