Banh Mi & Beer for Project MANA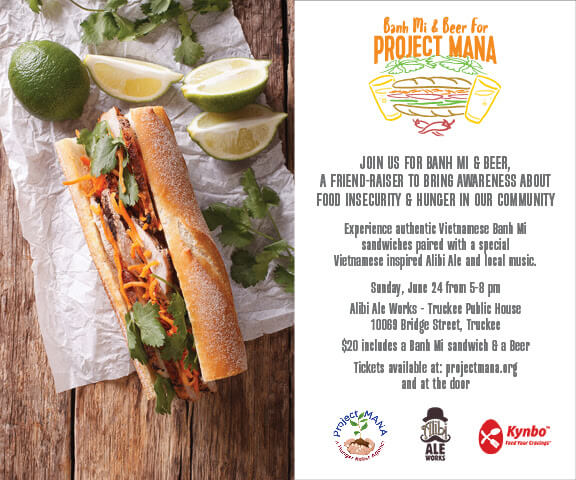 Project MANA and Kynbo are working together to host Banh Mi & Beer, a community event to bring awareness about food insecurity and hunger in our community. The event will feature authentic Vietnamese Banh Mi sandwiches, a Vietnamese inspired Alibi Ale and live music. Banh Mi & Beer will take place on Sunday, June 24 at Alibi Ale Works Truckee Public House. Tickets are available at Projectmana.org or at the door.
All proceeds after food expenses will go to Project MANA to provide hunger relief.
Tickets: $20 per person available at www.projectmana.org
Project MANA aims to drastically reduce the incidence of hunger and its detrimental effects upon individuals, families, the community and the region. 1 in 7 community members in N. Lake Tahoe and Truckee are hungry, 30% are children under 18. To learn more, donate or volunteer, visitProjectmana.org.
Kynbo is the ultimate "where to eat" app built for food lovers, designed by chefs and owners. To learn more visit Kynbo.com or download the free app.